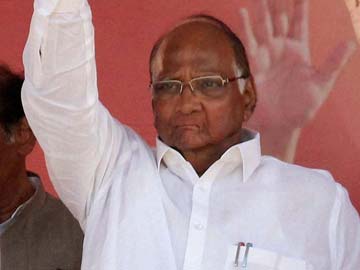 Mumbai:
Sharad Pawar today suggested that his party, which co-governs Maharashtra with the Congress, will happily leverage any benefits from a decision to reserve jobs in the state for Marathas, a politically vital community. "It was a long-pending demand that we fulfilled, we did not consider whether we will benefit, but if we do, so be it -we are not a gang of sadhus or saints," said Mr Pawar, 73, chief of the Nationalist Congress Party or NCP. (
NCP Did Not Seek Prithviraj Chavan's Removal From Chief Minister's Post: Sharad Pawar
)
The Maharashtra government, decimated in last month's national election, has decided 16 per cent of government jobs and admissions in state-run colleges will be reserved for backward Marathas; a five per cent quota has been added for Muslims. (
Maharashtra Cabinet Clears Quota for Muslims and Marathas
)
The move comes as the state gears up for assembly elections which are expected in October, leading to allegations that it's been pushed through as a vote-getter.
The government's decision could be challenged in court. With the new quotas, the reservation in jobs and education crosses the 50 per cent ceiling ordered by the Supreme Court. Also, a similar move by Dr Manmohan Singh's and the Andhra Pradesh government to introduce reservation for Muslims was cancelled by the Supreme Court which said quotas cannot be based on religion.
The Maharashtra government claims the new quotas are based on affirmative action for economically and socially backward communities, a claim that could be tough to prove in court.
After the Congress and Mr Pawar's NCP won just six of the 48 parliamentary seats in Maharashtra, sections of both parties have demanded that Chief Minister Prithviraj Chavan be replaced. Mr Chavan met his party chief, Congress president Sonia Gandhi over the weekend but appears to have survived the campaign for his removal. (
Question Mark Remains on Prithviraj Chavan, Tarun Gogoi's Fate
)
The NCP and Congress have governed Maharashtra since 1999; but in the national election, the opposition BJP and its ally, the Shiv Sena, swept the state, triggering expectations of a repeat performance in the assembly polls.