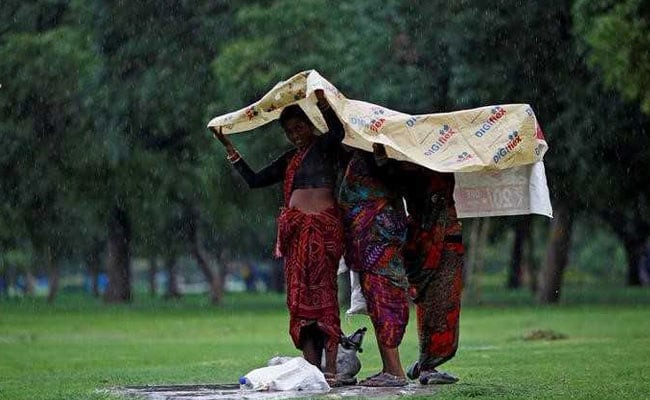 New Delhi:
India is likely to receive a "better monsoon" than it did in 2017, with the entire country expected to see "normal rainfall" between 96 to 104 per cent from June to September, officials said on Wednesday.
In 2017, the country received 97 per cent rainfall, which is considered normal. On Wednesday,
the Met updated its prediction cutting down on the error estimate
, thereby counting on better monsoon rains.
"Quantitatively, the country is likely to receive 97 per cent rainfall of long period average (LPA) with error estimate of plus-minus four per cent," Met department Director General KJ Ramesh told IANS.
"We are expecting better rainfall in 2018 than 2017," Mr Ramesh added.
Projecting scope of better rains, the weather office in its second stage long range forecast on Wednesday reduced the error estimate for the rainfall from earlier "plus-minus five per cent" to present "plus-minus four per cent".
Region-wise, the rainfall is likely to be 100 per cent of LPA over northwest India, 99 per cent of LPA over central India, 95 per cent over southern peninsula and 93 per cent of LPA over northeast India, all with a model error of eight per cent.
July is likely to be more rainy with rainfall over the country as a whole expected to be around 101 per cent, while, August is likely to see 94 per cent rainfall, the weather office said.
The weather department predictions are based on different technical models, with all suggesting normal rainfall, an official said.
According to one such model, the
rainfall averaged over the monsoon season
is likely to be 102 per cent, with error estimate of plus-minus four per cent.
A figure between 96 to 104 per cent is considered "normal" monsoon. While the figure between 104 to 110 per cent is considered "above normal" monsoon.
The average seasonal rainfall in India between 1951 to 2000 has been recorded at 89 cm.
In 2017, the monsoon season in the country as a whole was 97 per cent of its LPA, with northwest India receiving 95 per cent, central India 106 per cent, southern peninsula 92 per cent and northeast India 89 per cent rainfall.
The Met department in October 2017 said that while 72 per cent of the total area of the country received normal rainfall, 13 per cent area got excess rainfall and 15 per cent deficient seasonal rainfall.