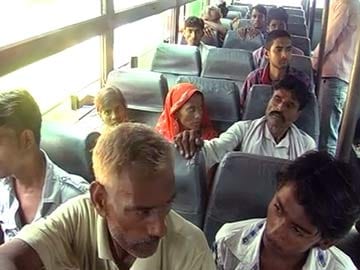 Chattarpur, Madhya Pradesh:
45-year-old Kripal Yadav is standing with his wife and teenage daughter at the Chattarpur bus stand in Madhya Pradesh waiting for a bus that will take him away from his 8 bighas of farm land to an uncertain Delhi.
Kripal Yadav is one of the many farmers who are abandoning their farms in Bundelkhand driven by a weak monsoon and the threat of impending drought in this central Indian state.
"I am going to Delhi with my family. As there has been no rain and there is a drought like situation. There I will work as a daily wager. Farming has uncertain returns," Mr. Yadav told NDTV.
But the administration says there is no need to panic yet and is yet to implement contingency plans in the 5 districts of the region.
"We are not planning to implement Contingency plan anytime soon as there is time. Farmers can still opt for crops which take less time to mature. Even if we have rains up to 6-7 inches in next 4-5 days then also the crops can be sown," Commissioner, Bundelkhand ,R K Mathur told NDTV.
Authorities claim they have started 160 irrigation projects in the Bundelkhand region with only 10 percent not yet functional.
But the reality on ground is grim.
The Tendua dam project which should have been complete years ago is still incomplete, depriving farmers of 4 villages from irrigation water.
Shyamripurva, which is one of 4 villages that would have benefited from the project, is already seeing farmers migrating to cities.
"From this village about 50 farmers have migrated to cities as they have no means of alternative livelihood. The government employment schemes are there but we hardly get earn enough from it to feed our family," Saryu Yadav, a farmer from the village told NDTV.
Get Breaking news, live coverage, and Latest News from India and around the world on NDTV.com. Catch all the Live TV action on NDTV 24x7 and NDTV India. Like us on Facebook or follow us on Twitter and Instagram for latest news and live news updates.