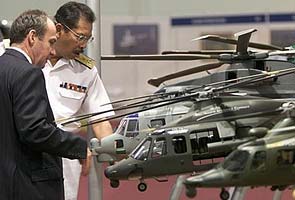 New Delhi:
The Prime Minister today said that his government is ready for a detailed inquest in parliament of alleged corruption in a deal for 12 Italian helicopters worth nearly 4,000 crores.
"We have nothing to hide... we are ready to discuss all issues in Parliament," Dr Manmohan Singh said.
When Parliament meets on Thursday for its Budget Session, the Opposition will leverage the scandal to accuse the government of fostering yet another scam. Ahead of next year's national elections, corruption will be a major issue. The helicopter scandal is likely to cause disruptions in Parliament.
"We want that the chopper scam should be properly investigated. If preliminary enquiry has happened then information must be provided about that," BJP president Rajnath Singh said.
India has warned that it is likely to cancel the helicopter deal with AgustaWestland, which is based in Britain, but is owned by Italian defence giant Finmeccanica. The CBI is investigating whether nearly 350 crores were paid in kickbacks to Indians via a complex matrix of middlemen and companies based in Chandigarh, Mauritius, the UK and Tunisia.
India's enquiry comes after Italy arrested former Finmeccanica CEO Giuseppe Orsi for paying bribes at home and abroad. A large part of the prosecutors' report there focused on the alleged bribes paid in India to bag the VVIP helicopter contract in 2010, beating competition from American and Russian rivals.
The Italian report says that the tender for the helicopters was revised and tailor-made for AgustaWestland. The government says its predecessor, the BJP-led NDA coalition, cleared these changes in 2003. But the contract was formally tweaked in 2006 when President Pranab Mukherjee was Defence Minister, and signed in 2010, on the PM's watch.
Defence Minister AK Antony will be asked to explain why the inquiry in India was ordered an entire year after the first reports about bribery surfaced in the media. Three months ago, he told Parliament that the government was unable to gain any information on the Italian investigation.