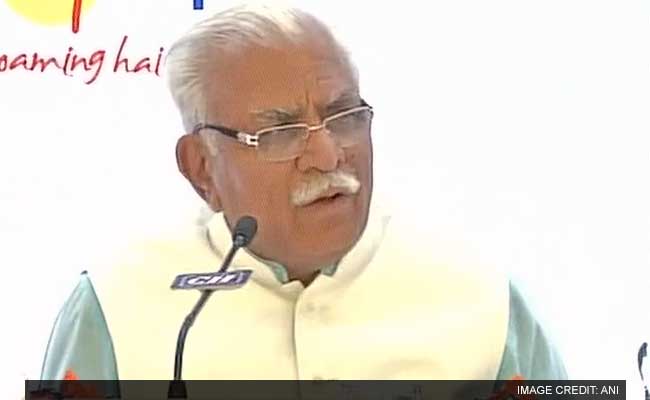 Chennai:
Haryana Chief Minister Manohar Lal Khattar today refused to be dragged into the controversy over his cabinet colleague Anil Vij's reported remarks on beef consumption, saying it was "waste of time" to discuss the beef ban.
"I think questions like this should not be asked. It is a mere waste of time," Mr Khattar told reporters during a road show organised by his government.
"There is no controversy over beef ban. No one has approached the government in this regard and it has already implemented an Act in this regard," he said referring to the
cow protection legislation in his state.
Mr Khattar was addressing a roadshow on the investment summit 'Happening Haryana,' scheduled next month.
He was responding to a query on
Health Minister Anil Vij's comment
that those who cannot live without consuming beef should not visit Haryana even as the Chief Minister himself was showcasing his state seeking domestic and foreign investment.
"There are some countries we don't visit because
food and drinking habits
there don't suit us. Likewise, those people who can't live without eating beef should not come to Haryana," Mr Vij told reporters in Ambala yesterday.
Earlier, the Chief Minister who spoke a few words in Tamil, said he had met representatives from top corporate houses in the state, both headquartered here, as well as those who have manufacturing units, adding they had promised investments of about Rs 3,000 crore in Haryana.
"During the last one hour, I have met some of them (industry leaders). They have assured major investments. Some of them are Siemens, Lucas TVS, Saint-Gobain, Schwing Stetter, Farm Fresh Banana. The investment is about Rs 3,000 crore," he noted.
On the target for attracting investments during the two-day Summit scheduled next month, he said, "Earlier, we had set a target of Rs one lakh crore. But as things progressed, we visited four countries where we saw a lot of enthusiasm among the business entrepreneurs there and we have achieved the target (of more than Rs one lakh crore)."
"We have signed nearly 20 MoUs and one of them, Wanda Group of China, has promised investments worth USD 10 billion here for setting up a theme park. We will surpass the target, which can reach up to Rs two lakh crore," Mr Khattar said.
He said the government envisaged creation of four lakh jobs from the investment summit.