New Delhi:
Highlights
Sharad Yadav calls meeting of opposition parties in Delhi
Rahul Gandhi attacks PM, says he 'lies everywhere he goes'
Minister RS Prasad says if he's right, why people don't vote for Congress
Congress vice president Rahul Gandhi today attacked Prime Minister Narendra Modi, pitching for a united opposition to take on the BJP, at a meeting hosted by Sharad Yadav, who is recently estranged from Bihar Chief Minister and Janata Dal (United) boss Nitish Kumar over his alliance with the BJP.
"Modi-ji says he wants to create a Swachh Bharat but we want
Sach
(Truthful) Bharat. Wherever he goes he lies," Mr Gandhi told the gathering of opposition leaders, adding, "if we come together, they will be nowhere to be seen."
He drew a quick response from union minister Ravi Shankar Prasad, who said, "This is an alliance of all the scared people. They are scared of Modi and the BJP. Today's meet was a meeting of all the losing parties"
Sharad Yadav had invited opposition leaders
for what he called a "
Sanjhi Virasat Bachao
" (save the country's composite culture) meet, his rebellion against the BJP which his party chief Nitish Kumar, has now joined hands with in Bihar. Mr Yadav's disapproval of Mr Kumar's decision to dump Lalu Yadav and the Congress as allies and partner with the BJP has brought them at breakpoint.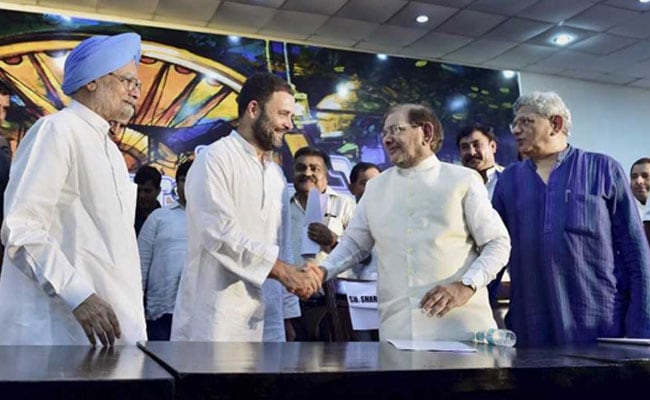 Though there has been no formal severance yet from his party, Sharad Yadav has pledged to work with a united opposition to take on the BJP. Leaders of 17 parties, including former Prime Minister Manmohan Singh, the CPM's Sitaram Yechury and other Left leaders attended the meeting at Delhi's Constitution Club today.
Sharad Pawar's Nationalist Congress Party, which had
skipped an opposition meeting chaired by Congress president Sonia Gandhi
last Friday, attended today's meeting. The leaders have decided to formulate an action plan for the 2019 national election, when PM Modi will seek re-election.
In his attack on the Prime Minister today, Rahul Gandhi took a dig at the government's flagship Make in India programme, alleging most products in the country were "Made in China". He accused the Modi government of not fulfilling election promises made to the people on bringing back black money stashed abroad and creating jobs for the youth.
He also attacked the BJP's ideological mentor the RSS, saying, "The difference between the RSS and us is that they think the country is theirs....we think we are part of the country."
"I want to ask him, why doesn't the country vote for you?" said the BJP's Mr Prasad, adding, "his observations are more of a political cry arising out of dismay. He just says whatever comes to his mind, it is quite natural because he is losing everywhere."