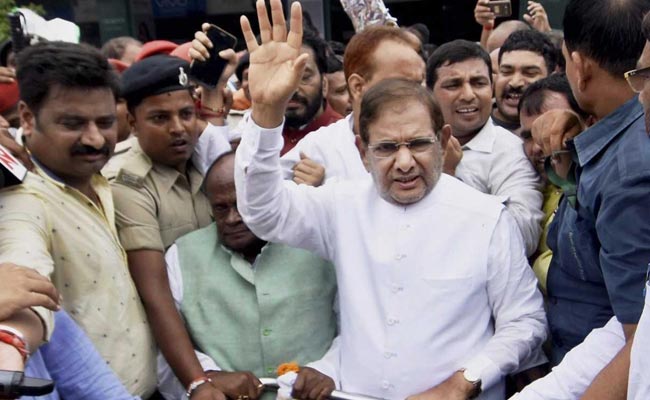 New Delhi:
Leaders from opposition parties, including the Congress and the Left, are likely to attend an event tomorrow hosted by rebel Janata Dal (United) leader Sharad Yadav. Senior leaders of the Congress, the Left, Samajwadi Party, Bahujan Samaj Party, Trinamool Congress and other parties have been invited to the programme which is being seen as Mr Yadav's show of strength against his JD(U) chief and Bihar Chief Minister Nitish Kumar's decision to ally with the Bharatiya Janata Party.
On who are the people likely to turn up at the meeting, Mr Yadav told reporters, "There would be hardly anybody from the opposition who will not come", adding similar meetings will be held across the country. He said a "composite culture" was the soul of the Constitution, which is now being "tinkered with".
Mr Yadav declined to respond on queries about his disapproval of Nitish Kumar's alliance with the BJP, adding the decision to hold tomorrow's event was taken weeks ago when the JD(U) was still with the shaky opposition group.
"The
sajha virasat bachao sammelan
(save composite culture programme) is not against anybody but in the interest of the country. This is in the interest of 125 crore people of the country," Sharad Yadav said.
He said incidents such as the suicide of University of Hyderabad student Rohith Vemula and the disappearance of Jawaharlal Nehru University student Najeeb Ahmed, besides suicide by farmers across the country, show that the situation was not good for people from economically weak background.
Sharad Yadav said he supported Prime Minister Narendra Modi's call to end violence in the name of cow protection, but it has not reflected on the ground.
People familiar with the matter said Sharad Yadav has invited Congress President Sonia Gandhi and party Vice President Rahul Gandhi, Gujarat Congress parliamentarian Ahmed Patel and senior Congress leader Ghulam Nabi Azad, among others. The people said Communist Party of India (Marxist) General Secretary Sitaram Yechury, Rashtriya Lok Dal chief Lalu Yadav and Samajwadi Party leader Akhilesh Yadav have been invited too.
The JD(U) removed Mr Yadav as its parliamentary party leader in the Rajya Sabha after he opposed siding with the BJP.