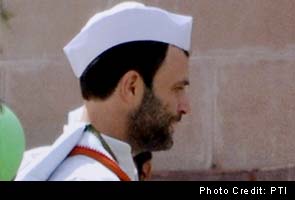 New Delhi:
Rahul Gandhi wants those who aspire to contest elections on Congress ticket to fill a five-page application form which tests their knowledge about the constituency and also asks for an assessment of the Congress' performance there.
Mr Gandhi, Congress vice-president and the party's number 2, has devised the new application system in an attempt to ensure that godfathers and regional satraps don't play middlemen in the crucial task of finding the right candidate to contest each seat.
Candidates for Assembly elections in five states due in November this year and the general elections next year will be picked using the new process.
The form asks the aspirant to detail previous experience at contesting elections and by what margin they won or lost. For years, getting ticket in the Congress has meant intense lobbying with screening committee members, come elections.
In the months before polls, the party's regional and central headquarters are crowded with hopefuls lining up and requesting meetings with important leaders to present their case.
The Congress believes that Mr Gandhi's giant application form will help separate the chaff from the wheat. "As the Supreme Court also ordered, we have to make sure candidates have no criminal precedent, so this will bring in cleaner and more transparent politics," said Madhu Yaski, a Congress Member of Parliament.
The BJP has dismissed it as yet another "ambitious but impractical Gandhi scheme."
"All this public relations doesn't work," offered the opposition party's Shahnawaz Hussain, pointing out that Mr Gandhi's processes and plans did not help him win elections in Uttar Pradesh.