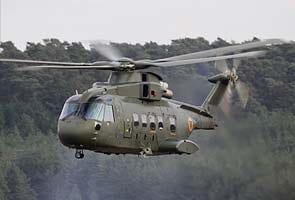 New Delhi:
Following allegations of corruption in the AgustaWestland (AW) helicopter deal, plans for modernization of India's defence forces are in jeopardy.
As the Central Bureau of Investigation (CBI) investigates whether kickbacks were paid by AgustaWestland's parent company Finmeccanica, the armed forces worry that plans to replace 1970s and 80s era equipment will be held up, and that once again, India will be over-reliant on Russian manufacturers, instead of sourcing equipment from a wide range of suppliers.
Defence Minister AK Antony warned on Tuesday morning, "Don't raise a doubt for every purchase. India has a volatile neighbourhood and the Indian military needs to modernize fast." But officials say the CBI probe ordered by the government has now put officials dealing with India's acquisition process in a "go-slow" mode.
The Indian Navy, among the biggest spenders on defence acquisitions in the past five years, is likely to be the hardest hit, sources say. The navy was at the advanced stage of negotiating prices to acquire 16 Multi-role helicopters (MRHs) for about 2 billion dollars.
In contention are the American Sikorsky and NATO Helicopter Industries (NHI), a consortium of AgustaWestland and Eurocopter among others. If AgustaWestland gets blacklisted, then the 13-year old process of tendering and bidding will have to begin again.
These helicopters are supposed to replace vintage Sea King helicopters. They are especially important for guarding the navy from submarine strikes.
The Indian Navy also has plans to buy 56 new Naval light utility helicopters which do a variety of jobs from search and rescue, surveillance and reconnaissance and AgustaWestland was supposed to be competing for this tender.
The Indian Army has been waiting forever to buy field artillery guns. The last field artillery purchase was the Bofors gun in 1987.
But with at least four international firms from as diverse nations as Singapore, South Africa, Germany and Israel, having been banned for one wrong doing or the other, the Indian Defence Ministry is fast running out of options to choose from.
Another big jolt for the armed forces was the recent announcement of budgetary cuts worth 14,000 crores.