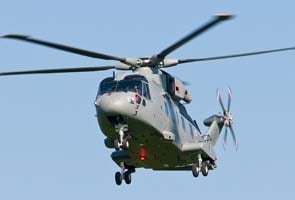 New Delhi:
Facing charges of taking kickbacks in the Rs 3,600 crore VVIP chopper deal, a cousin of ex-Indian Air Force chief SP Tyagi today termed as "baseless" the allegations against him and his two brothers, and said they were open to any inquiry.
In a report filed by Italian investigators on the defence deal in Italy, the three Tyagi brothers - Julie, Docsa and Sanjeev - are alleged to have received kickbacks of around Rs 72 lakh from middlemen.
"All allegations against me are baseless and I am ready to offer myself for any inquiry by any agency," Julie Tyagi said.
He said he was sure that his name would be cleared after an inquiry into the matter as the family had "nothing to hide".
Julie Tyagi claimed he and his two brothers are involved in the Power sector as consultants and have never ventured into the Defence sector in any way.
The Italian investigation report suggest that it was Julie who received the payments of one lakh Euro (Rs 72 lakh) from one of the European middleman allegedly involved in the deal.
It also alleges that the middlemen used the three Tyagi brothers to reach their cousin Air Chief Marshal S P Tyagi for influencing the deal by changing the key parameters for procuring 12 VVIP choppers.
The issue of bribery in the defence deal resurfaced after the arrest of Finmeccanica Chief Executive Officer (CEO) Giuseppe Orsi and AgustaWestland CEO Bruno Spagnolini in Italy for paying kickbacks.
The investigation report suggests that the Air Chief Marshal (retired) SP Tyagi had met the middlemen more than six to seven times and allegedly briefing them about the developments in the contract.