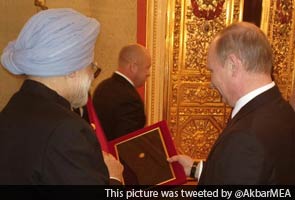 New Delhi:
Prime Minister Manmohan Singh received an overwhelming welcome by President Vladimir Putin during his two-day visit to Moscow, delegation members pointed out today citing the example of special gifts that the Russian President gave Dr Manmohan Singh during their summit level talks in Moscow.
President Putin had personally studied the history of Russia-India relations going back to over 150 years and selected artefacts that depicted some of the events from the 1890s.
Apparently when the then Czar's son Nikolas the IInd visited India, he travelled to 30 major Indian cities between 1890-91. Here Nikolas met the Maharajas of Patialia and Kapurthala among other royalties.
A lithograph depicting those meetings, a map of India from that time and a Mughal coin of that period now in Russia was presented by Putin to Dr Singh as a special gesture. This caught even Russian officials by surprise, Indian delegation members said.
Earlier in the morning, Dr Singh was conferred an honorary doctorate by the Moscow Institute of International relations. Delivering his talk there, the Prime minister referred to the abiding relationship between the two countries.
"I consider it a matter of great honour that the Moscow State Institute of International Relations has decided to confer an Honorary Doctorate on me. I am conscious of the rich history of this great institution and its enormous contribution to Russian and international diplomacy.
"Your gesture today is yet another indication of the abiding affection of the Russian people for India and the strength of relations between our two countries, which I have experienced personally in many decades of public life," Dr Singh said.