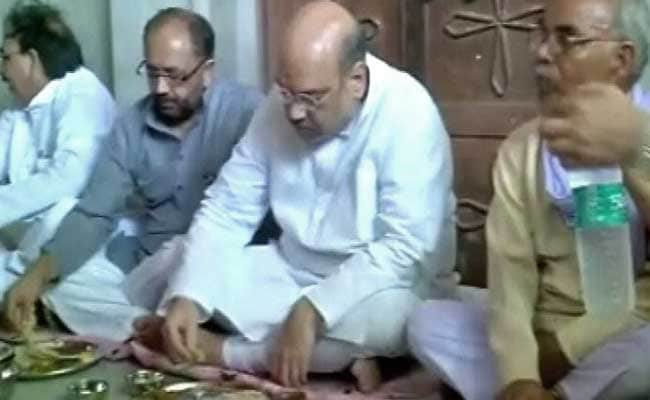 New Delhi:
As part of the party's Dalit outreach, BJP's top brass has asked Union ministers and senior functionaries to have meals at Dalit households while visiting different states as part of the Modi government's third anniversary celebrations.
"While they (Union ministers and party leaders) will talk about the achievements of the government and also ensure that they enroll as many people as they can with the party," a Union minister said.
BJP functionaries as well as ministers have been given a set of instructions as the party celebrates its three years at the Centre.
"They have been asked to pan out across the country, stay overnight in the northeast states, talk extensively about the Swachh Bharat Abhiyan, enroll members in the party and have at least one meal with a Dalit family," the minister said.
Culture and Tourism Minister Mahesh Sharma shared a meal with a Dalit family today at Nuapada during his visit to Odisha.
He also registered 45 members of the household as BJP members.
Earlier, Union Power minister Piyush Goyal followed the party's diktat and paid a visit to a Dalit home at the Ambedkar Colony in Hongasandra, Bommanahalli of Karnataka, where he ate breakfast cooked by the lady of the house.
The leader later gushed about the food and the family's hospitality.
Karnataka BJP Chief B S Yeddyurappa has also been seen having food with Dalit families since the last fortnight.
The trend begin with the party chief Amit Shah visiting a Dalit family and sharing lunch with them in Telengana during his visit to the state between May 22-24.
(This story has not been edited by NDTV staff and is auto-generated from a syndicated feed.)