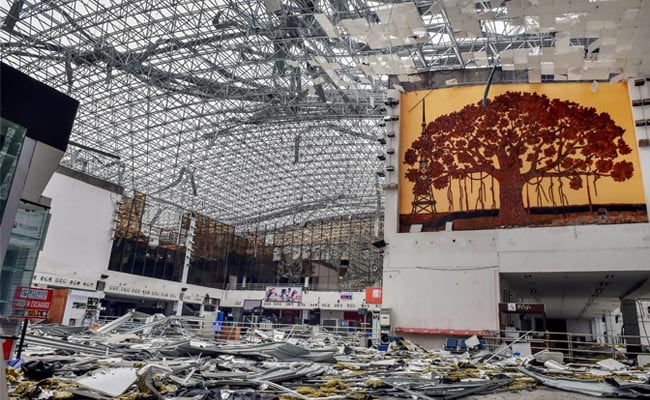 Hyderabad:
Battered and bruised, that's how Visakhapatnam looks after Cyclone Hudhud struck the port town with windspeed of over 200 kmph. The eye of the storm passed at Kailashgiri where the Indian Meteorological Department's weather station is located, damaging equipment, ironically not allowing measurement of windspeed to happen at the place where the eye of the storm had landfall.
Vizag looked ravaged this morning, with streets littered with fallen trees, banners ripped out, broken statues of leaders, traffic lights lying broken on the road and many telephone and electricity poles down.
"Visakhapatnam is a place I like very much. But, it is painful to see the city this way today," said Andhra Pradesh Chief Minister N Chandrababu Naidu who is camping in the city to oversee relief operations.
Prime Minister Narendra Modi said he will visit Visakhapatnam or Vizag on Tuesday to take stock of the situation. He will conduct an aerial survey of Visakhapatnam.
In a city that has prided itself to be a green city, 70-80 per cent of the trees had fallen to the might of the wind. Aditya, a software professional, told NDTV that when he woke up, he could not recognise the city he grew up in. "It has gone back 50 years."
Arvind Kumar, special officer who has been deputed to oversee relief and disaster management, said 70-80 per cent of the trees are gone. "There is long term damage. Will take long to rebuild Vizag."
With all roads blocked by fallen trees, the teams of National Disaster Relief Force or NDRF had worked overnight to ensure the national highway to Vijayawada was open by Monday morning. NDRF Deputy Inspector General S S Guleria said they were working round the clock to ensure things get back to normal at the earliest.
There is no electricity in Vizag and telephone lines are down too. Late on Saturday, power supply was switched off as precaution, and the storm later knocked down the network. Hundreds of electricity poles and towers were damaged across Visakhapatnam and Srikakulam districts.
Electricity connection has not been restored as broken power lines could endanger lives. Locals complained that without power and cellphone discharged for over 48 hours, life was becoming miserable.
Petrol pumps in the city were mobbed by those anxious to get fuel to stay mobile. Petrol stations were trying to ration supply, which led to blackmarketing. With milk being sold for Rs 100 a litre and other essential commodities like food either not available or very expensive, patience was beginning to run out.
"We know the government has done a great job and working to restore services at the earliest but couldn't they have asked people to stock up?" asks Sujatha, a housewife.
By late evening, the figure of those who had died was eight, a small number compared to what many had feared. Relief commission A R Sukumar said unofficial reports had suggested the death toll could be 21.
Many people have lost their homes and so cyclone relief centres will continue to run for now, the government has said.
The Visakhapatnam airport is closed, with damage to the roof and water logging reported. Restoration of services, officials said, will take time.
Rail services have not yet been restored as the tracks have been damaged in some segments.
Critical installations are safe. The Indian Navy said both runways at its Vizag air station, INS Dega, will be fit for flying by 2.30 this afternoon.