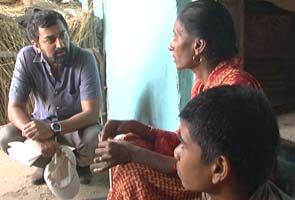 Vidarbha:
In Vidarbha, rocked by farmer suicides, a new controversy is brewing. In one sweep, over the past year, the state government cleared a whopping 85 power projects across this region. For this they have sanctioned 2200 million cubic metres of water from irrigation projects, which could have watered an estimated five lakh hectares of farmland.
The BJP says it is against diverting water to power plants in Vidarbha, but are its own leaders, including party President Nitin Gadkari, direct or proxy stakeholders in the booming power business?
The route through their business dealings are several - one of them being Chintamani Agrotech.
Started with the guidance of Nitin Gadkari, it has as its members, Utam Ingle, former BJP MLA from Umerkhed, Madan Yerawar, former BJP MLA from Yavatmal and Devendra Fadnavis, MLA from Nagpur.
Mr Ingle, confirmed to us the relations between Mr Gadkari and Chintamani. When we asked him if Mr Gadkari was still associated with it, this is what he said, "Chintamani Agrotech is Nitin Gadkari's company but I bought the land in the company's name. I'm a Director in it with 10 other people."
Nitin Gadkari sent in this statement in clarification. "Nitin Gadkari was once appointed independent Director of the company, but due to his commitments he could not attend even in single meeting of the company and subsequently resigned from M/s Chintamani Agrotech in 2011."
In 2001, Mr Ingle, on behalf of Chintamani Agrotech, bought 127 acres of land from a remote tribal village in Yavatmal, the district that reported the highest number of suicides.
Tribals say that since Mr Ingle is also a tribal, they believed his claim of setting up a sugar factory which would provide jobs to them. An angry villager told us, "We demand that either you give jobs to our kids or give us the correct compensation for the land otherwise give our land back."
But there has been no factory for ten years, and no jobs. Instead, Chintamani has announced that they are going to be setting up a 30 MW power plant on the site.
According to Mr Ingle, "The 30 MW power plant will run on biogas, from sugarcane residue."
Mr Ingle claims it is a biofuel plant which doesn't use coal, and so it doesn't contradict their stand against coal-based power plants in Vidarbha.
But in their official release, Chintamani has described it as primarily a coal-based plant, and confirmed that they have coal linkages.
Angry with what they see as multiple deceptions, the tribals went on a rampage, breaking Chintamani's field office, and demanding that their land be returned.
Vijay from the affected village says, "Chintamani company has not done any work and we have no faith left in them anymore. They did not do any work for ten years and we don't know whether they will or not. But an entire generation lost out due to them. What benefit did we get? That is why we want our land back."
But undeterred, Mr Gadkari's associates have come back to the same spot with even bigger ambitions, under a different proxy. This proxy is Jinbhuvish Power, headed by the Nagpur based businessman Manish Mehta, who also was a director in Chintamani Agrotech. On Mr Mehta's website we found photos of him with Mr Gadkari which demonstrate his closeness with the latter.
Jinbhuvish has bought 750 acres of land, to set up a huge 1260 MW coal-based plant bang next to the Chintamani land.
This has raised fresh fears. Jinbhuvish is cleared to get 20 million cubic metres of water which most likely will come from the nearby Penganga river.
For the tribals struggling to farm with acute water scarcity, this is the final insult.
But Mr Ingle claims there is no link between the two, and that Manish has left Chintamani Agrotech. Mr Ingle told us, "Manish Mehta used to be a Director in Chintamani Agrotech but he left. Now he is in Jinbhuvish."
But the Chintamani power plant is listed in Jinbhuvish's website, as a Jinbhuvish project! They even share the same offices in a building in Nagpur.
At the office, they were extremely apprehensive about answering our questions. Or revealing details of Manish Mehta's location.
Manish Mehta later called us, saying he was in Bombay and promised to meet, but backed out. He did say on the phone that Chintamani and Jinbhuvish are different companies, but that he is helping them with their project in Yavatmal. Separately, one of the BJP MLAs who is a director of Chintamani went a step further and said Mr Mehta is running both companies.
As further evidence of the links, Mr Ingle confirmed that he helped Jinbhuvish acquire 625 acres of land for yet another coal-based power plant in Ningnur, also in Yavatmal. He told us, "I helped Jinbhuvish to acquire land on which they are making a 1200 MW power plant for which they have got clearance as well."
Vidarbha Jan Andolan's Kishore Tiwari says there is no doubt about these links. He says "Jinbhvish is a recent partner which owns these two sites - Bijaura and Kolura power plants, floated initially by Chintamani Agro. Chintamani is a sister concern of Purti Agro which is the company of Nitin Gadkari."
On the outskirts of Nagpur, is an even more direct link between Mr Gadkari and coal based-power business.
Work is progressing on a new 270 MW power plant set up by Ideal Energy, in which Nitin Gadkari's son, Nikhil, is an independent Director.
Ideal Energy is right next to Purti Industries, owned by Nitin Gadkari.
It is also right next to Wadgaon Dam, so its water supply is assured. Nikhil initially was unavailable for comments but later said he had resigned from Ideal Energy on 8th April 2011.
Activist Vijay Jawandiya says, "The national leader of BJP, Nitin Gadkariji has his own power plants and is entering the power industry with his friends. This is really a tragedy. Instead of solving the problems of Vidarbha farmers, this will increase their problems as water availability will be reduced."
A Congress-NCP Government diverting water from farmers to power projects, and the BJP President and his party colleagues benefiting from it. What more proof needed that the water crisis in India's most high-risk farming zones is less to do with weather Gods, but more with the political leadership.