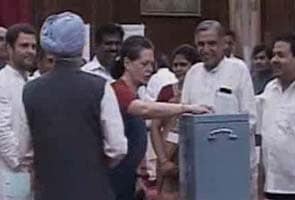 New Delhi:
Voting to elect the country's 14th Vice President began on Tuesday with MPs from both Houses of Parliament exercising their franchise to choose between UPA's Hamid Ansari and NDA's Jaswant Singh.
Mr Ansari, who is expected to win the contest, is seeking re-election.
Voting began at 10 am and will continue till 5 pm. Counting of votes will be taken up at 6 pm.
The Vice President is elected by members of an Electoral College consisting of members of both Houses of Parliament in accordance with the system of proportional representation by means of single transferable vote. Nominated members of the Rajya Sabha and Lok Sabha are also entitled to take part in the election.
A total of 788 Lok Sabha and Rajya Sabha MPs are eligible to vote in the poll to elect the 14th Vice President.
UPA managers are confident that Mr Ansari, 75, is set to get at least 500 votes in a contest in which he has a definite edge as far as the arithmetic is concerned.
The Congress itself has 204 members in Lok Sabha and 71 in Rajya Sabha. UPA constituents Trinamool Congress has 19 MPs in Lok Sabha and nine in Rajya Sabha; the DMK has 18 members in Lok Sabha and seven in Rajya Sabha, the NCP nine in Lok Sabha and seven in Rajya Sabha and the RLD has five in Lok Sabha. The National Conference has three in Lok Sabha and two in Rajya Sabha.
Besides, the Samajwadi Party with its 22 members in Lok Sabha and nine in Rajya Sabha and the BSP with its 21 in Lok Sabha and 15 in Rajya Sabha are backing Mr Ansari, who is also being backed by the entire Left block with 38 members in both Houses of Parliament.
Unlike the Presidential poll held last month, which had split the NDA with the JD(U) and the Shiv Sena breaking ranks to vote for UPA candidate Pranab Mukherjee, Jaswant Singh has the backing of a united NDA for his Vice Presidential bid.
The BJP has 114 members in Lok Sabha and 49 in Rajya Sabha; the JD(U) 20 and nine; the Shiv Sena 11 and four; and the Shiromani Akali Dal four and three respectively.
While the AIADMK, which has 14 MPs in Parliament, yesterday announced its support to Mr Singh's candidature, the BJD with 18 members in Lok Sabha and seven in the Rajya Sabha has decided to abstain from voting.
Ahead of the poll, UPA Chaiperson Sonia Gandhi yesterday hosted a lunch for UPA constituents and the parties supporting it from outside, which projected a complete picture of unity.
(With Agencies inputs)