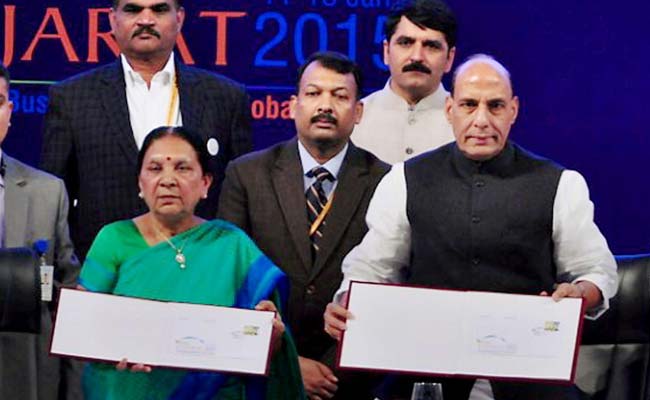 Gandhinagar:
Of total 21,304 memorandums of understanding signed during the seventh edition of Vibrant Gujarat Summit, more than 17,000 relate to micro, small and medium enterprise (MSME) sector alone.
As per the figures released by the state government on Tuesday, 4,223 MoUs relate to large sector industries while 17,081 MoUs are in the MSME sector.
Of these 17,081 MoUs, 6,962 fall in the purview of MSME-IC (Industrial Commissionerate) while 10,119 in the MSME-GIDC (Gujarat Industrial Development Corporation).
In the MSME-GIDC category, where 10,119 MoUs were signed in 33 MSME sectors, the government expects to get investment of Rs 27,461 crore and 2.04 lakh jobs.
In the MSME-GIDC, MoUs in Engineering, Auto and Ceramics industries dominated with 3,303 MoUs with investment of Rs 7,230 crore. It was followed by Chemicals and Petrochemicals (1,166 MoUs, Rs 3,713 crore investment), Textile and Apparels (620 MoUs and Rs 2,164 crore investment) and Agro and Food Processing (564 MoUs with Rs 1,079 crore investment).
Gujarat Finance Minister Saurabh Patel today said the number of MoUs this year surpassed that in the previous summit by 3,585. As many as 4,223 MoUs were signed in 36 big sectors such as power, cement, information technology, healthcare, financial services, etc.
Chief Minister Anandiben Patel had said on Monday that the MoUs signed this year are expected to fetch investment worth Rs 25 lakh crore in the state.
In the large sectors, the highest number of MoUs were signed in urban development (1,052), followed by rural development (340), animal husbandry and fisheries (298) and agro and food processing (228).
The state government also entered into 1,230 'strategic partnership' agreements in 36 sectors, Patel said.