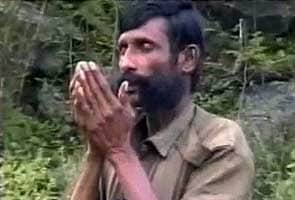 New Delhi:
Four associates of notorious sandalwood smuggler Veerappan, whose mercy petitions have been rejected by President Pranab Mukherjee, will move the Karnataka High Court against their execution, sources say. Their mercy pleas were rejected on February 13.
The four convicts - Veerappan's elder brother Gnanaprakash, Simon, Meesekar Madaiah and Bilavendran - are currently lodged in a jail in Belgaum in Karnataka. They were sentenced to life by a TADA court in Mysore in connection with a blast at Palar in Karnataka in which 22 police personnel were killed. The Supreme Court awarded them the death sentence in 2004. Gang leader Veerappan was killed in an encounter with the Tamil Nadu police in October 2004.
Reacting to news of the mercy pleas being rejected, Madaiah's wife Thangammal, who is 60 years old, said, "It is a shocking news that the four would be hanged since their mercy petitions were rejected by the President." She said she had met her husband six months ago in the prison. "He had told me then that he will be released within a few months. But all of a sudden I am hearing that he will be hanged. It is like breaking my head with a hammer," she added.
While the news has brought sorrow to the families of the four convicts, family members of the policemen who were killed in the blast have hailed the President's decision. "My brother was brave. Me and my father fought a lot to get justice. We are happy with the President's decision," Mohd Jameed Ahmed, brother of blast victim Sub Inspector Shakeel Ahmed, told NDTV.
The President's refusal to commute their sentence to life comes just days after he rejected a mercy petition filed on behalf of Parliament attack convict Afzal Guru. He was hanged at Delhi's Tihar Jail six days after the rejection of his mercy plea.