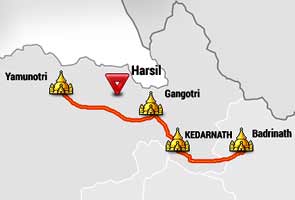 Harsil:
A Pawan Hans helicopter, which was on a rescue mission in Uttarakhand, today made a hard landing at Harsil. No one has been injured in the incident.
The chopper had flown from Dharasu to Harsil to get back those stranded to safety to Dehradun. It was raining when the chopper approached the helipad; it ultimately landed on its tail, causing a minor damage to its tail rotor.
The pilot and co-pilot, though, are safe.
The mishap comes just three days after an Mi-17 helicopter of the Indian Air Force crashed while it was heading back from a rescue mission to Kedarnath, the part of Uttarakhand that took the worst beating in the flash floods and landslides which have killed at least 1,000 since June 15. All 20 on board were killed.
Bad weather conditions, coupled with tough terrain, have made air rescue operations to evacuate those stuck in remote areas of the hill state a daunting task.
On June 21, a private helicopter that was being used for rescue operations had crashed. The pilot, though, was rescued.