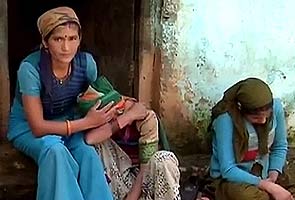 Sidhsodh Jakholi, Rudraprayag:
Numb and speechless, absolutely no reaction on the face of 22-year-old Savita. She sits along with her mother-in-law at the porch of her door and then all of a sudden tears roll down her cheeks as her mother-in-law wails uncontrollably.
All they want is the impossible - for Savita's husband 28-year-old Saukar Singh Negi to return. With no word from Saukar, the family is one of them many to have already completed all Hindu rituals a week ago.
Every yatra season, Saukar would move to Kedarnath to work at a shop selling Puja items, and had been doing so for the last six years.
When news of the flash floods reached home, his grandfather, 83-year-old Inder Singh, couldn't take it.
"We were told that he drowned in the floods. What hope to have now? And then his grandfather out of intense grief stopped eating and expired," said Saukar's brother Pramod.
Of the 800 people still missing from Uttarakhand, 200 are from just one cluster of 50 villages in the Jakholi block in Rudraprayag district. This remote village lost four of its men.
At a few houses away, Pramila, only 19, married Meetu Singh Bisht last May. Meetu had worked across India including Bangalore and Chandigarh, but he yearned to be closer home.
His first visit to Kedarnath became his last.
"We went to his boss's house. He told us that he seems to have perished. So we returned and completed his final rituals," said his brother Dinesh.
"A father is responsible for rearing a child, getting him married. I did that all of that. But I had to also cremate him. What to do?" said father Dev Singh Bisht.
It's an incredibly difficult decision they have all taken - to declare your loved ones dead even before the government does. But for them that today is a mere formality. For they all know, and are convinced, all those who went to Kedarnath, simply didn't survive.