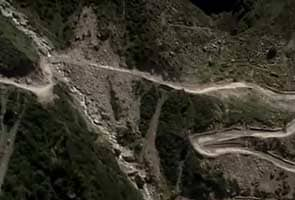 Dehradun:
Uttarakhand Chief Minister Vijay Bahuguna on Saturday said that the death toll in the devastating floods in the state may go up to 1,000. Mr Bahuguna's statement came on a day when the central government estimated that 557 people have been killed in the floods that struck the state last weekend.
"The death toll is definitely more than 750 maybe around 1000 , but I like I said, the NDRF team and Army team till they return and the Kedarnath slush is cleaned up and the number of people washed away is not fixed, we cannot give a definite toll," the chief minister had said.
While over 70,000 have been evacuated, rescuers are in a race against time to evacuate an estimated 22,000 people who are still stranded at various locations across the Uttarakhand. According to Met Department projections, severe rains are likely to hit the flood affected areas around Tuesday.
On Saturday, nearly 10,000 people were evacuated, with at least 2,000 being rescued by the Army from critical areas including Jungle Chatti, in mountains between Gaurikund and Rambara in Kedarnath. But nearly 500 are still stuck in the dangerous terrain which the government has dubbed a point of concern.
123 bodies were also recovered by the National Disaster Response Force (NDRF) teams from the Kedarnath temple complex. Nearly 80 people are still stuck in the temple town which is one of the worst-hit in the flash floods triggered by torrential rains in the state. Rescuers are also scrambling to evacuate another 8,000 who are stranded in the holy town of Badrinath.