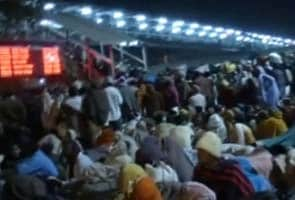 Lucknow:
Fearing further furore during the ongoing budget session of the state assembly, the Uttar Pradesh government late on Sunday ordered a judicial probe into the stampede at the Allahabad railway station on February 11, which left 37 dead.
A state spokesman said Chief Minister Akhilesh Yadav had appointed retired Allahabad High Court judge Justice Onkareshwar Bhatt to hold the probe. He is expected to submit a report to the state government within two months.
"The probe into the Mauni Amavasya stampede at the railway station has been handed over to a retired High Court judge and we expect the report to be tabled within the next two months," RM Srivastava, Principal Secretary (home) told sources.
The state government had earlier ordered the chairman of the revenue board Jagan Mathews to probe the incident but the official, after a week, had not initiated any proceedings in the probe.
The opposition parties, including the Bharatiya Janata Party (BJP), Congress, Bahujan Samaj Party (BSP) and the Rashtriya Lok Dal (RLD) had attacked the state government for failing to save precious lives during Kumbh. In protest, the opposition had not allowed Governor BL Joshi to speak at the inaugural session of the state assembly last week.
Fearing that the parties will now not allow the budget speech of the Chief Minister, the Uttar Pradesh government swung into action late on Sunday, and after a political nod to the judicial probe, announced a time-bound probe.
Senior officials told sources that the decision to order a judicial probe was taken after a "threadbare scrutiny of its own arrangements at the Kumbh."
"Once it was found that the district and the Kumbh Mela administration had virtually no negative role in the tragedy, a political decision was taken to allow a judicial probe," a senior official at the Chief Minister's office said.
With more than 30 million people gathering for the ritual bath on Mauni Amavasya day, arrangements for crowd control at the city railway station had collapsed, leading to a stampede at a foot over bridge and staircase connecting platforms 5 and 6, when panicky passengers rushed to board a train whose arrival was announced on the public address system.
While 36 people died on the spot, one succumbed to injuries later.