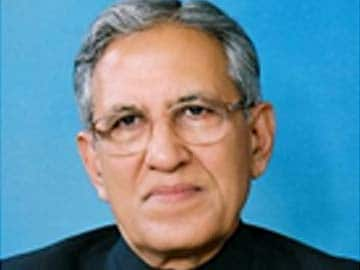 New Delhi:
Amid reports that Prime Minister
NarendraModi's
government wants to replace governors appointed by its predecessor, Uttar Pradesh governor BL Joshi has resigned. West Bengal governor MK Narayanan is likely to quit tomorrow, say sources, and more governors are in the line.
Mr Joshi's tenure was to end next month while Mr Narayanan's term is till January next year.
Their exit could portend more resignations by UPA-appointed governors who are believed to be under pressure after the new BJP government took over last month. Sources say the governors of Karnataka, Assam and Rajasthan have sought appointments with President Pranab Mukherjee.
Feelers from the government were reportedly sent to Kerala Governor Sheila Dikshit, who has allegedly refused to quit. Ms Dikshit, a former three-time Chief Minister,
wasmade Kerala Governor in March
after she led the Congress to a humiliating defeat in December's state election in Delhi, which saw the Congress being decimated after 15 years in power. Sources say she could be shifted to a smaller state.
BL Joshi was among seven governors seen as "out-and-out UPA appointees", whose terms end in six months or less.
Other UPA-appointed governors who still have two years or more to complete their term are likely to come under pressure to quit. Among them is Rajasthan Governor Margaret Alva, who met the Prime Minister today and will also meet the President.
The opposition Congress is alleging political vendetta. "Why are they worried about changing governors?" said the party's PC Chacko.
In 2004, the UPA government's decision to axe BJP-appointed governors led to a major political showdown. A BJP MP moved Supreme Court, which ruled in May 2010 that governors were not employees of the union government and cannot be removed "in an arbitrary and capricious manner with the change of power." The court said a governor can be replaced only under "compelling" reasons of misconduct or any other irregularity.
The escalating controversy over governors comes as the Prime Minister's Office has stopped eight ministers from appointing as their private secretaries top bureaucrats who had worked for UPA ministers. (
AlsoRead: PM's Office Questions Ministers' Choices for Private Secretaries
)