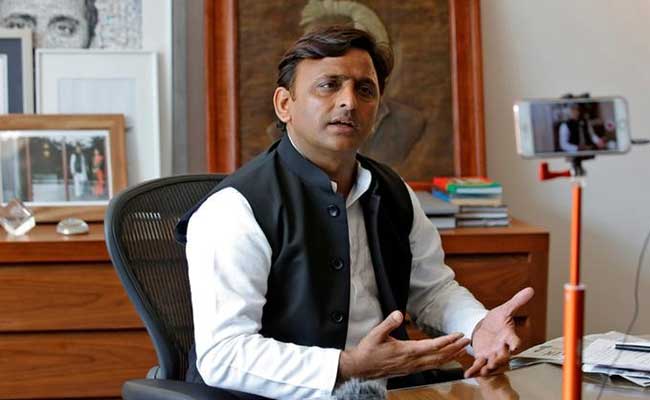 New Delhi:
Samajwadi Party leader and former chief minister Akhilesh Yadav called upon the people of Uttar Pradesh to come and vote en masse and deliver results that would prove "revolutionary" in a by-election that's being seen as a dry run for the state's 80 seats ahead of next year's general elections.
By-elections are being held today
on two key parliamentary seats in the state -- Gorakhpur held by Yogi Adityanath and Phulpur held by his deputy Keshav Pradhan Maurya. Both seats became vacant after the two leaders took on the top jobs in the state and the BJP's sweeping victory in the assembly elections held in the state in March last year.
Mr Yadav's tweet in Hindi this morning read: "Today is a day to change and create history. Come out with everyone and show how much strength our unity holds. The results will be revolutionary and decisive for the future of the nation and the state".
Days before the election, 44-year-old Mr Yadav pulled off an
accord with arch-rival Mayawati
- the BSP leader who had sworn off alliances with the Samajwadi Party 23 years ago after their ties fell through in 1993 - to stop the BJP march.
Along with and after the victory in Uttar Pradesh, the BP bagged a string of non-BJP ruled states: Goa, Uttarakhand, and a clutch of states in the northeast. In Manipur it formed government last year. Last week, it scored a victory in the assembly elections in Tripura and formed government in Meghalaya and Nagaland with the help of regional allies.
Chief Minister Yogi Adityanath has called the SP-BSP ties a reaction to the recent BJP advances in the northeast.
But alongside the victories, the BJP lost face in Rajasthan, where the Congress won three key seats in last month's by-elections. The party also retained the two seats it had in the by-elections in Madhya Pradesh - seen as its biggest stronghold after Gujarat -- despite an all-out campaign by Chief Minister Shivraj Singh Chouhan.