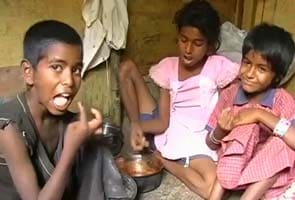 New Delhi/Mumbai:
In what is being described as India's numbers of shame, a UNICEF report has highlighted what is one of its worst kept secrets: the state of the country's urban poor. Behind the glitzy glass facade buildings, children are dying of malnourishment and education is a distant dream.
In the 1980s, Maharashtra hit the headlines for huge numbers of malnutrition deaths in its tribal regions. Now the capital Mumbai is under a sharp spotlight. Malnutrition cases in this world city seem improbable: nearly 60 per cent of its estimated one lakh slum children are malnourished, and about 6,000 die every year of hunger-related diseases.
At a shanty in Byculla, not far from the Maharashtra Government headquarters, Karan and his sisters - all minors - had just finished lunch when this reporter met them. On being asked about their daily food intake, Karan's sister Chinchu replied: " We mixed chilli powder with water and ate that with chappatis." Asked about how they manage to get their food every day, Chinchu replied: "Whatever we get by begging."
The infant mortality rate is 55 per cent for the urban poor and 62 per cent for the rural poor. Seventy one per cent of the urban poor children suffer from anaemia, and the figure for rural poor stands at 72 per cent.
Jassu, a resident of the Byculla slums in Mumbai, says: "If I make some money, I feed my children. If not, we sleep hungry.''
India has about 49000 slums, and 93 million people live in these slums. While one would imagine that life for the urban poor would be better as compared to their rural counterparts, the UNICEF report differs on that front. There is not much of a difference in the standards of living of the urban and rural poor, with sanitation and overflowing drains being big issues for both.
In one of the slums of the national capital, the dwellers revealed that they use community toilets, and since the toilets are locked at 11 in the night, they do not have access to any such facilities after that.
Among the urban poor, 59 per cent women suffer from anaemia, and the figure stands at 57 per cent for the rural population.
At a slum close to one of the best hospitals and schools in Delhi, the residents reveal that they do not have the economic power to be able to avail of these facilities. Zahida, who lives in a slum close to the Apollo hospital says, " My husband earns 2000 rupees a month. It is very difficult to survive as I have six children."
Zahida's daughter Chandni added that "something there is nothing to eat".
Among the urban poor, 47 per cent of the children below the age of five are underweight. The figure stands at 46 per cent for the rural poor. Over 54 per cent of the urban poor children do not go to school.
On being asked why she doesn't send her children to school as even big schools will take them for free, Zahida replied: "I haven't heard about any such school, and when there is nothing to eat, how do I send my children to school".
Joining the conversation, Chandni quipped: "I want to go to school and become a madam when I grow up".