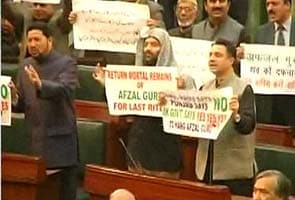 Jammu:
The Jammu and Kashmir assembly was adjourned on Friday after uproarious scenes over the opposition Peoples Democratic Party (PDP) demand to discuss parliament attack convict Afzal Guru's hanging.
Members of the ruling National Conference (NC), as also the lone Communist Party of India-Marxist (CPI-M) member, too joined the demand. The PDP started shouting slogans demanding the adjournment motion.
PDP legislators were led by the party president Mehbooba Mufti, who said: "We want an adjournment motion on this important issue."
NC leader Nasir Aslam Wani, along with veteran CPI-M leader Mohammad Yousuf Tarigami, too joined the demand.
Despite Speaker Mubarak Gul's attempt to bring order, the opposition continued to disrupt the proceedings. The speaker then adjourned the house for one hour.
The PDP tabled its demand on Thursday, the first day of the budget session.
The PDP said: "It is the failure and inability of the state government to protect rights of the citizen of Jammu and Kashmir - Mohammad Afzal Guru, who was hanged by depriving him of his proper legal rights."
"Why was Afzal Guru, who was at serial number 28 in the queue of those facing death sentence, picked up and sent to the gallows without giving an opportunity to approach the Supreme Court," the party asked.
"After rejection of the mercy petition of Afzal Guru, he should have been given the opportunity to approach the Supreme Court for final petition but he was not given this opportunity. Afzal Guru was deprived of his legal right and hanged secretly in unholy manner," the PDP said.
Party legislators were also demanding that mortal remains of Afzal Guru be given to his family members for proper burial and last rites.