Highlights
Video shows first year students sitting on the floor and cheating
The incident took place at Dr Bhimrao Ambedkar University in Agra
The university Vice Chancellor said that the matter will be investigated
Agra:
In another incident of mass cheating in Uttar Pradesh's Agra, a video has gone viral which shows a youngster strolling in an examination room with a pistol tucked in his pants. The first year students can be seen sitting on the floor and copying answers from cheating material strewn all over the hall.
The incident took place at Dr Bhimrao Ambedkar University in Agra. Vice Chancellor Dr Arvind Kumar Dixit said that the matter will be investigated. He also said that they will probe how did the person manage to enter the college and why there was no furniture in some classrooms. "We are trying to find out the identity of the person who carried a gun in the examination room," Dr Dixit said.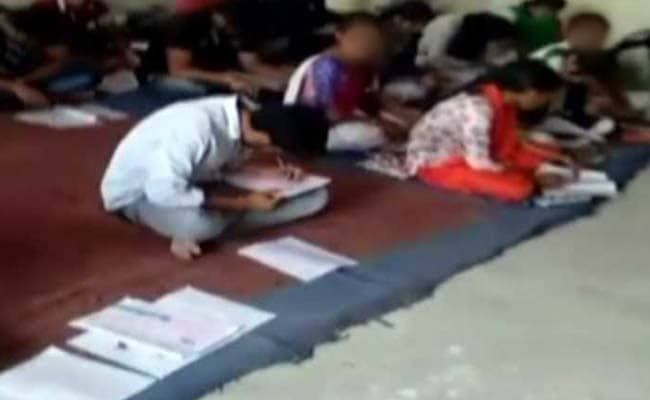 Last month, over 60 people were arrested for helping Class 12 students cheat in UP's Atroli. While students of Bhorey Kishan Lal Sharma Inter-College in Tebatu, around 30 kms from Aligarh, sat inside their examination rooms with their answer sheets, in a house on the opposite side of the campus, about 62 people wrote answers to the same question papers, police said.
The answer sheets were to be swapped at the end of the examination and the ones written by the proxies were to be sent for evaluation.
Mass cheating during board exams is common in Uttar Pradesh. This year, Chief Minister Yogi Adityanath government has taken several measures to ensure cheating-free examination.
The state government has installed CCTV cameras and the special task force (STF) of the Uttar Pradesh Police was asked to help conduct free and fair exams.
However, lakhs of examinees skipped the state board exams earlier this month in the wake of steps taken against the education mafia that aid in the use of unfair means.
"When we said let's conduct a cheating-free exam, lakhs of students dropped out. I don't know what will happen in the future," Mr Adityanath said.