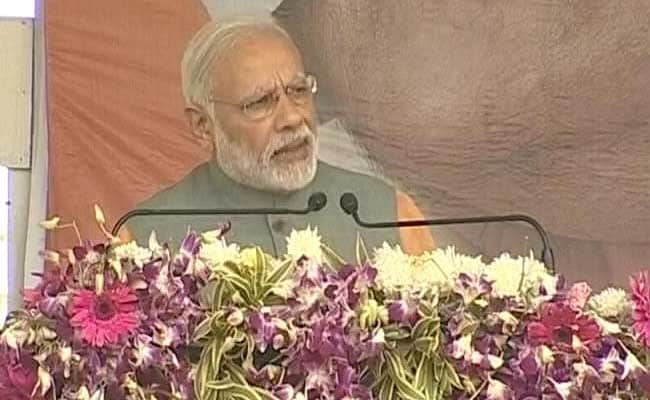 New Delhi:
After Prime Minister Narendra Modi dubbed his political rivals in Uttar Pradesh as "SCAM", Congress hit back saying it does not behove a PM to use such words. The party's spokesperson came up with his own set of names for the acronym.
"The Prime Minister is very keen to use English abbreviations and he used 'SCAM' to attack his political rivals. We will tell you what 'SCAM' means in Hindi - it is '
satta bhogi, kapti dhongi
Amit Shah Modi'," Congress spokesperson Tom Vadakkan told reporters.
"Instead of delivering or what the road map ahead is, we hear him (Modi) speak on abbreviations. He is extremely worried because he has realized the faults what demonetisation has done across the country," he went on.
Mr Vadakkan came out with similar taunts for BJP calling it "
bhagoda jugadu
party", "
bhai bhateejawad
party", "
bhaichara jalao
party", "
bhrashtachar jagao
party" and "
bhramjaal jagao
party".
The Congress reaction came after PM Modi, while addressing a rally in Meerut, asked the people in Uttar Pradesh to "rid the state of SCAM - S for Samajwadi (party), C for Congress, A for Akhilesh (Yadav) and M for Mayawati".
"Is it correct for the Prime Minister of India to say this? The Prime Minister of India needs to withdraw the statement," he said.
The Congress spokesperson also showed a video of the wife of BSF jawan Tej Bahadur Yadav who he alleged has been kept in illegal detention since he put out a video of the alleged poor food quality provided to BSF jawans.
"I want to draw your attention to a surgical strike on the dignity and honour of a BSF jawan," he said, demanding that government should launch an inquiry into the allegations of Constable Yadav.
"PM should explain to the country why jawans are served sub-standard food. He must apologise to the nation promising such incidents do not happen again," he said.