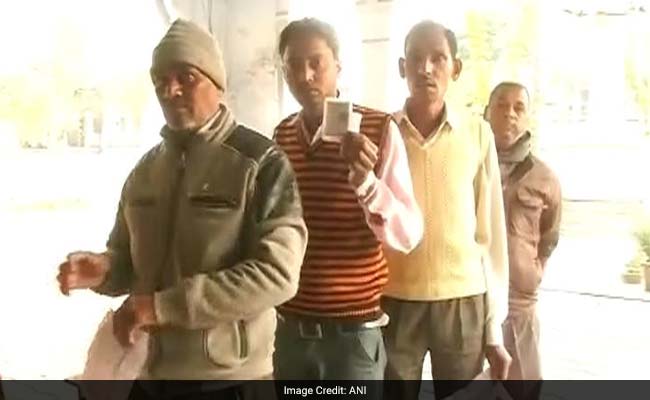 Raebareli: Over 61 per cent turnout was registered today - up by 2.3 per cent from 2012 - as parts of Uttar Pradesh voted in the fourth round of seven-phase elections. Five seats in Congress President Sonia Gandhi's parliamentary constituency Raebareli are among the 53 that voted today. The parched Bundelkhand zone and Allahabad, the historic city at the centre of India's independence movement are also a part of this phase. Campaigning ahead of this round saw acrimonious speeches as Prime Minister Narendra Modi, Chief Minister Akhilesh Yadav, his alliance partner Rahul Gandhi and BSP chief Mayawati addressed people in villages and small towns.
Here are the 10 latest developments:
Late last night, the son of a Samajwadi Party candidate was injured in firing between rival groups in Mahoba town. The family has accused supporters of the Bahujan Samaj Party (BSP) candidate. Four people were injured.
Sonia Gandhi, who has not campaigned even once in Raebareli, appealed to voters in an open letter last evening, in which she accused the Modi government of "deliberately" depriving people of the centre's welfare schemes.
Of the 53 seats in this phase, the Samajwadi Party had won 24, the BJP 5, Mayawati's BSP 15, the Congress 6 and others 3 in the assembly elections of 2012.
Prominent candidates include Congress lawmaker Aradhana Mishra, the daughter of parliamentarian Pramod Tiwari, and independent legislator and minister Raghuraj Pratap Singh aka Raja Bhaiya.
The most number of candidates are in Allahabad. BJP national secretary Siddharth Nath Singh -- who is the grandson of former Prime Minister Lal Bahadur Shastri - is contesting his first polls from Allahabad West.
During the campaign, Prime Minister Narendra Modi repeatedly targeted the Samajwadi Party-Congress alliance and the BSP, accusing them of corruption. "SCAM stands for SP, Congress, Mr Akhilesh and Ms Mayawati," the Prime Minister told the voters in Bundelkhand.
PM Modi had described Mayawati's BSP as the "Behenji Sampatti Party". Ms Mayawati retaliated by saying that the initials of the Prime Minister's name stand for "Mr Negative Dalit Man".
In a sharp drop in the quality of political statements, Chief Minister Akhilesh Yadav referred to a Gujarat tourism ad featuring Amitabh Bachchan and said, "I urge the century's biggest star not to campaign for Gujarat's gadhas (donkeys)".
The fate of 680 candidates will be decided by nearly two crore voters including 84 lakh women.
The assembly elections in Uttar Pradesh are being conducted in seven phases. The votes will be counted on March 11.
For the latest News & Live Updates on Election Results from each assembly constituency in Madhya Pradesh, Rajasthan, Mizoram, Chhattisgarh, Telangana, like us on Facebook or follow us on Twitter for updates.