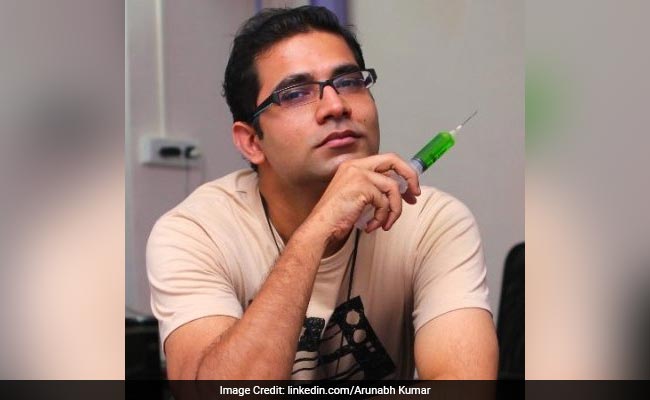 Founder of The Viral Fever (TVF) and IIT alumnus
Arunabh Kumar has decided to step down as chief executive
of the entertainment firm. This comes months after a former employee accused him of sexually harassing her when she was working for the company between 2014 and 2016.
Here is the full statement of Arunabh Kumar on stepping down as CEO of TVF:
Hello Everyone,
The last few months have been the most challenging ones of my life and I would like to thank my friends and family for their unwavering support.
Lot of people wanted me to say something or tell my side of the story, but I did not because I learnt the hard way what happens when you say anything in haste.
We made a grave mistake, by reacting instinctively, in our first official response. While no amount of apologies can undo the mistake, I would like to again apologize from the bottom of our hearts for letting you all down and thus humbly accept the brickbats we received from all of you for that insensitive response.
A lot has happened in the last three months which has mentally and emotionally drained me. However, I have faith and confidence that eventually truth will prevail.
Through this all it has become clearer to me that, what was and will continue to be most important is - TVF.
I started my entrepreneurial journey with a passion to entertain people with great stories and my dream was to make an Indian Content company to match up to the likes of Disney and HBO.
It was and remains my dream to make content creation, which is always seen as an individual driven business, into a more organised profession, one that Indian youth can aspire for and where hundreds of stroytellers could be successful. And that's the core of TVF, a culture rooted in democratic and equal opportunities for everyone irrespective of gender, caste and background. We grew from a bunch of passionate, talented and inexperienced novices to a team of over 200 professionals, on the foundation of this very culture.
TVF was, is, and always will be larger than any one individual and I believe we have only just started on our path breaking journey to be a young global organisation.
In the wake of the recent personal attacks, what really breaks me is the blemish on the brand's true promise. I have therefore taken the decision to step down as the CEO of TVF.
I will be available as a mentor for the content team as they continue to deliver the stories you love us for.
I transition from this role knowing that TVF is in safe hands, handing over the reins to Dhawal Gusain, who will take on the mantle as the CEO of TVF. Dhawal has a sharp business acumen and, together with our leadership team, will keep working tirelessly to scale the TVF to greater heights and bring a renewed ambition and zeal to make TVF the best place to work at, for both women and men.
Last but not the least, the biggest stakeholders of any company are its users, and we can't thank you enough for standing by us throughout. We are indebted and grateful to you for giving us so much love and inspiration to do better. No Matter what you say for us, it only means one thing - that you care.
TVF is nothing without you!
Thank you,
Arunabh Kumar