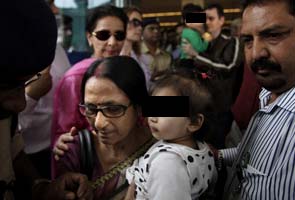 Kolkata:
Within a month of their return to India, two NRI children, who were earlier taken into foster-care by the Norwegian Childcare Services, find themselves in a new controversy -- their families have filed police complaints against each other alleging threats to kill.
Sagarika Bhattacharya, mother of Abhigyan (3) and Aishwarya (1), has complained to Kulti police station in Burdwan (West Bengal), alleging that her father-in-law, Ajay Bhattacharya, had sent some goons to threaten to kill her if she came near the children.
Mr Bhattacharya, on the other hand, on Friday filed a complaint in the same police station counter-alleging that Sagarika and her father Manotosh Chakrabarty had been threatening them with dire consequences if they did not return the children to their mother.
"On May 23 I was not allowed to see my children and was kept waiting for many hours. Later some goons threatened to kill me if I came near my children. I even went to police and registered a complaint but was again threatened the next day," Sagarika Bhattacharya told IANS, adding that her in-laws had filed the complaint against her maliciously and in retaliation.
Mr Bhattacharya, on the other hand, accused Sagarika and her father of coming to their house with a large group, purportedly to take away the toddlers forcibly.
"Sagarika has said that she will send us to jail under the dowry laws if I did not give her the children. I fear about the safety and security of my family. They can go to any extent, which is why I approached the police," Mr Bhattacharya said.
The police have registered the respective complaints but are yet to act in any of them.
"We have received two complaints from Sagarika and one from Bhattacharya. Both parties have alleged receiving threats from the other and we are looking into the matter," a spokesman for the Kulti police said.
Amid all the allegations and counter-allegations, the children remain silent sufferers, literally, as little Abhigyan has been diagnosed with "attachment disorder" which has robbed him of his ability to speak.
Traumatised by the prolonged separation from his parents and the taxing custody battle, the three-year-old son of Sagarika and Anurup Bhattacharya has stopped speaking and hides in the arms of his uncle Arunabhash Bhattacharya, to whom the Norwegian authorities granted his custody.