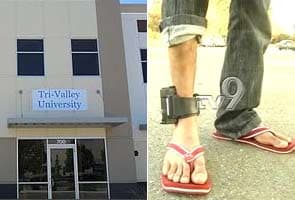 Washington:
US immigration authorities have removed radio tags from the ankles of two Indian students from California-based Tri-Valley University (TVU), which has been shut down on charges of massive visa fraud.
"Immigration attorney Kalpana Peddibhotla had taken two of the students to Immigration and Customs Enforcement (ICE) and she has been able to obtain the removal of the radio tags from them," Susmita Gongulee Thomas, the Consul General of the Indian Consulate San Francisco, told PTI.
Peddibhotla and these students had attended a free legal aid camp organised by the Indian Consulate in San Francisco in association with the South Asian Bar Association.
"She (Peddibhotla) would be taking some more students next week and is optimistic that this might have positive outcome as well," Thomas said.
According to a federal complaint filed in a California court in January, Tri-Valley University helped foreign nationals illegally acquire immigration status. The university is said to have 1,555 students. As many as 95 per cent of these students are Indian nationals, the complaint said.
Investigations by ICE have found that while students were admitted to various residential and on-line courses of the university and lived in California on papers, in reality they "illegally" worked in various parts of the country as far as Maryland, Virginia, Pennsylvania and Texas. The ICE has called Tri-Valley a "Sham University."
"ICE has also indicated that those who are willing to talk to them, the authorities are willing to discuss with them all available options for the students to remain lawfully in the United States," Thomas added.
According to available information, 18 students in California were radio-tagged by ICE as part of their investigation against Tri-Valley University. Ankle monitors send a radio frequency signal containing location and other information to a receiver.