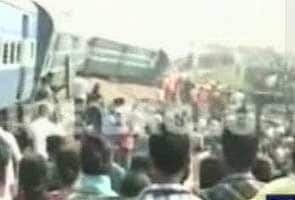 Rangia:
Three people were killed and 50 others were injured when seven coaches of a passenger train derailed after hitting an earth-cutting vehicle at an unmanned crossing in Kamrup district of Assam today.
The driver of the earth-cutting vehicle and two other persons were killed when their vehicle stranded at the level crossing at Gossainghati between Azara and Mirza was hit by the Bongaigaon-Guwahati Chilarai Passenger passenger train at 9:30 am, railway sources said.
Injured passengers have been rushed to Mirza Public Health Centre. Those critically wounded have been referred to Gauhati Medical College Hospital, police said.
Railway officials along with rescue teams have reached the spot, railway sources said.
Railway helpline numbers:
Rangiya: 03621-244279
New Bongaigaon: 03664-231754
Guwahati: 0361-2331621, 2331622, 2331623
(With PTI Inputs)