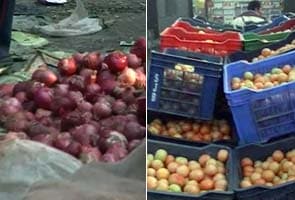 New Delhi:
As consumers wait for prices of onion to come down from Rs 50-60 a kg in retail, another important vegetable tomato continues to rule high at Rs 60 a kg in the national capital due to supply crunch as well as export of the commodity to Pakistan. Tomato retail prices which had zoomed to Rs 70-80 a kg in retail market on Saturday last saw a marginal slide on Monday at Rs 60/kg, traders said.
The wholesale price of the veggie is Rs 15-30/kg in Azadpur (Asia's biggest wholesale fruits & vegetables market), General Secretary Tomato Merchants Association Subhash Chuk told PTI. The wholesale price is continuing at this level for around last one week, he added. Other metros too are not being spared.
Tomato is costing Rs 50/kg in Mumbai in retail while it stood at Rs 35 per kg in Kolkata and Rs 40 per kg in Chennai, traders said.
Subhash Chuk attributed soaring of tomato prices in Delhi to supply crunch to the tune of 40 per cent and also export of the commodity to Pakistan. "Arrival of tomato is almost 40 per cent less now days from the feeder states of Gujarat, Haryana, Uttrakhand and Rajasthan where the crop are not ripening because of winter chill," Chuk added. Besides, even amid restricted arrival of the crop, traders in the national capital are sending about half of the quantity (they are acquiring) for export to Pakistan.
"Out of a total of 20-30 trucks of tomato (each carrying 10 tonnes) arriving in Azadpur daily, almost 10-15 vehicles are dispatched to Pakistan through Attari-Wagah border everyday," Chuk said. Azadpur market based President of Tomato Merchants Association Darshan Lal Arora echoed similar views. The two said besides Delhi, tomatoes are entering Pakistan directly from Amritsar, Jaipur, Ratlam and Ahmedabad in lure of handsome cash.
Vice President of Amritsar Exporters Association Rajendra Singh Uppal told PTI over phone that almost 30-35 trucks load of tomato are going to Pakistan through Attari-Wagah border daily nowadays.
The volume of trucks has come down recently from 100 trucks of tomatoes a fortnight ago, Uppal added. Chuk and Arora said prices of tomato might come down by next week with the increase in flow of the commodity from Ahmedabad, Haldwani and Jaipur due to faster ripening of the crop.
This is due to expected rise in temperature as a result of easing of winter in these regions.