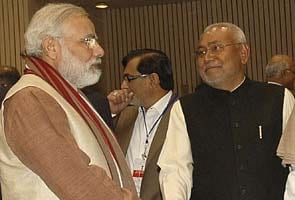 Patna:
The BJP may have settled its crisis over the resignation of its leader, LK Advani, but its troubles with important ally Nitish Kumar appear to be deepening.
Mr Kumar, the Bihar Chief Minister, who runs his government in partnership with the BJP, chaired a Cabinet meeting yesterday evening. Sources say that there was no reference to Mr Advani's move to quit his party posts, a decision he rescinded on Tuesday.
The developments in Delhi may not have come up in Patna, but it's hardly business as usual.
Mr Kumar has instructed all his state legislators not to leave Patna, said sources. The Chief Minister wants them to be available for consultations about whether it's time for their Janata Dal United or JD(U) to ditch the BJP.
Earlier this week, Mr Kumar said that his party is calibrating its response to the BJP's decision to place Narendra Modi in charge of its election campaign.
The Chief Minister has begun conferring with senior ministers and local leaders.
The appointment of Mr Modi, the Chief Minister of Gujarat, as the Chairman of the BJP's campaign committee has been opposed by Mr Advani and his loyalists who worry this brings him within the finishing line of being made the BJP's prime ministerial candidate.
Mr Kumar's JD(U) has said that it will end its state and national alliance with the BJP if that happens. Its leaders allege that Mr Modi did not do enough to stop the communal riots in Gujarat in 2002 in which hundreds of Muslims were killed.