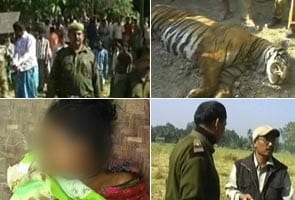 Morigaon:
Even as Asian countries meet in Russia to discuss ways to save the tiger, a Royal Bengal Tiger was shot dead by police on Tuesday after it killed a woman and mauled another sub-inspector at Nagabandha in Morigaon district in Assam.
The tiger, which swam across the Bhramhaputra from Orang National Park in Udalguri district to take shelter between Morigaon and Nagaon districts, killed a 38-year-old woman, police said.
When sub-inspector Tilak Chandra Bora and his team went to nab the tiger, it pounced on him in a paddy field, injuring the policeman critically, they added.
The tiger was finally shot dead to save the sub-inspector.
The feline had also injured two villagers and killed a bull in the past few days.
Forest officials, veterinary experts and activists from a prominent animal rights NGO Aranyaak arrived at the site and were investigating to the incident.
In the last week alone, four tigers have died in Assam. (With PTI Inputs)