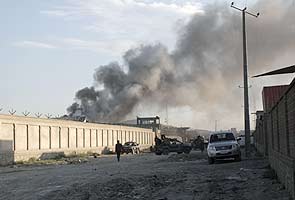 New Delhi:
Three Indian workers were killed in Tuesday's Taliban attack on a guest house in Kabul. Top Indian government sources have confirmed to NDTV that the Indians killed worked at a Dubai-based company's guest house. The company's officials who also live in the guest house supplied to NATO forces in Kabul. Indian officials are now in the process of informing the families before letting out any more details. The legal and other formalities to transport the bodies back to India are being finalised. NDTV's sources stress the attack was not targeted at Indians but at the foreign company and its links to supplying NATO.
The attack in Kabul's Pul-e-charkhi area early on Tuesday morning followed the familiar Taliban modus operandi. A vehicle packed with explosives was detonated at the back wall of the compound. At least two attackers entered the breached wall firing their weapons. Most compounds in Kabul have a bunker for times like these and so did this guest house. Sources tell NDTV the three Indians didn't make it to the bunker in time. The Taliban claimed responsibility for the attack, but the group's spokesperson is yet to reply to NDTV on the Indian deaths. All the attackers were killed by security forces.
There are about 3,500 Indians working in Afghanistan, but those killed were not registered at the Embassy. That explains the delay in information getting out that Indians had been killed. Earlier reports named four Nepali and one Afghan guard as well as a British and Romanian national as having being killed.
Though, Indians were not targeted this time, there have been previous deadly attacks specifically against Indians. In July 2008, two senior diplomats, Political Counselor Venkateswara Rao and Defense Attache Brigadier RD Mehta and two ITBP personnel Ajai Pathaniya and Roop Singh were killed in a suicide car attack on the Embassy. Over 60 Afghans were also killed. The US had shared intercepted transcripts then that showed Pakistan's ISI masterminded the attack with the Haqqani network.
In February 2010, Taliban militants killed nine Indians including two unarmed Indian Army doctors and injured five other officers. Infotech workers, ITBP and BRO personnel, who have all been working on developmental or infrastructure projects have been killed in the past.
The Taliban have been increasing their attacks this year in the run-up to foreign combat troops being withdrawn at the end of 2014. Presidential elections are also scheduled for 2014. Attacks have also been mounting while proposed talks with the militant group in Qatar are stalled by President Karzai. But, even if Tuesday's attack was not directed specifically at Indians, it reinforces the dangers of being at the wrong place at the wrong time.