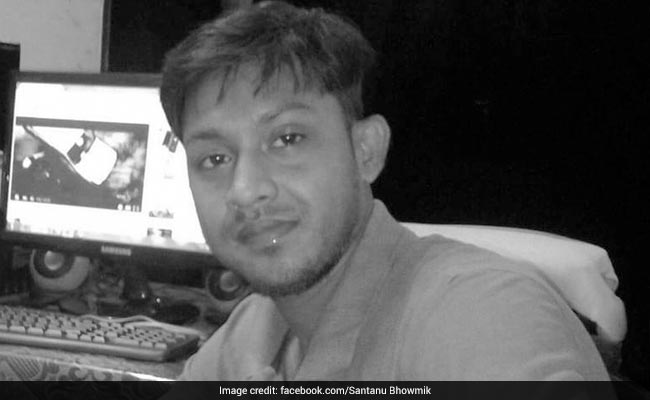 Tripura:
The murder of 28-year-old journalist Santanu Bhowmick in Tripura has triggered massive outrage across the country.
Two men have been arrested
for his
murder and abduction
while he was covering a clash in Tripura on Wednesday. The men allegedly belong to the Indigenous People's Front of Tripura (IPFT), a tribal political party demanding a separate homeland.
The clash between the IPFT and its arch-rival Gana Mukti Parishad (GMP), the tribal wing of the ruling CPM, took place in west Tripura's Jirania. At least 60 people were injured and the police had to use force to bring the situation under control.
Tripura police during their preliminary investigation have pieced together the chronology of events at Mandai.
A top Tripura police official, who is part of the investigation, on condition of anonymity revealed some graphic details of what led to Santanu Bhowmick's murder. Around 8 am on Wednesday, the Mandai Police station got information about IPFT supporters gathering near the mini stadium. Twenty minutes later, the Sub-Divisional Police Officer (SDPO) informed police headquarters that the IPFT didn't have the permission.
As the IPFT has indulged in violence in the past, the police immediately requested the west Tripura district administration to impose Section 144. It was put in place by 9 am. By 9.30 am, the police started urging people to go back.
However, by 10 am, IPFT supporters gathered at different places of Mandai and other areas of Jirania and claimed that CPM supporters had burned their party flags and they would protest by blocking roads.
SDPO Jirania then asked for reinforcement. SP West Tripura reached with forces around 11.30 am.
Meanwhile, Santanu, who was a journalist at 'Dinraat' news channel in Tripura, got information that IPFT supporters might create chaos, went with a local stringer to cover the road blockade. They returned to Jirania around 12 noon, but half an hour later, commotion started. The police used force to disperse IPFT supporters.
Santanu then called his colleagues to tell them about the tension in the area. He also told that it was difficult to shoot on camera since the IPFT people were aggressive and abusive. So he decided to shoot the incident on mobile.
Around 12.30, he again went to Mandai and by that time CPM supporters had also come out on streets. At 12.45 pm, the IPFT supporters started throwing stones. There are reports that some of them were carrying sharp weapons. Santanu might have gone too close to the mob with his mobile when a brick hit him on his back making it difficult for him to walk. As the police lathi-charged, the IPFT supporters dispersed but they hid behind bushes. Santanu took refuge where CPM's tribal supporters were hiding.
At 1.45 pm, when an injured Santanu was trying to move to a safer place, about 10 to 15 IPFT supporters attacked them.
The tribal youth escaped, but Santanu couldn't. They dragged him to a nearby house and hacked him to death. Around 3 pm, the police found his body and took him to Agartala's GB Hospital where he was declared dead.
Among many theories, police suspect that as he was on IPFT's target list, he was attacked. The other reason could be that the IPFT people chased him to get hold of his cellphone which is missing. Another theory suggests that since Santanu was seen with some Left cadres, the IPFT supporters might have taken him to be a CPM cadre and attacked him.