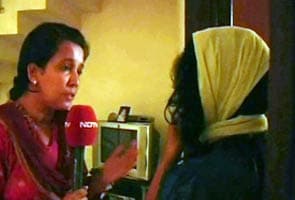 Jaipur:
Through last night, the 27-year-old woman hid in a narrow lane behind her home where she lives with her young son.
For hours before that, she said, cars that drove by were assigned to spy on her.
She has found refuge now. In a location that cannot be disclosed, she alleges that filing a rape case against a minister in the government was tough. What has followed has been considerably harder.
In threats made on the phone, she says, supporters of the minister, Babu Lal Nagar, have threatened that they will kill her, and kidnap her son. She has not sent him to school for two days.
"I have been hiding, running from one place to another," she says. Her husband and child are in a room nearby.
On September 13, she approached a local court in Jaipur accusing Babu Lal Nagar of raping her two days earlier. She was convinced that the police would not help her; the court ordered a case to be registered against the 53-year-old minister.
He admits meeting the woman at a public meeting but has denied raping her, and has ascribed the charges to a political conspiracy.
Faced with a new setback just before elections later this year, Chief Minister Ashok Gehlot assured her of safety, saying his government will investigate if the victim is being threatened. Mr Gehlot, however, has not asked for the minister's resignation yet.
The woman says that she met the minister at his official residence in Jaipur. She says he had helped her with favours in the past, like asking a school to admit her relative's child. At this meeting, he had promised to share the details of a job that could be arranged for her.
She says that the minister took her into a bedroom and raped her. "When I protested, he clamped his hand down on my mouth, hit me and assaulted me," she said, adding that the politician then warned that he would have her killed "like Bhanwari Devi" if she reported the assault.
Bhanwari Devi, a nurse, was found dead in January last year. Two politicians from the ruling Congress - one of them a minister - were arrested for hiring a gang to kill her because she was allegedly blackmailing the minister with a sex CD.
She says she has kept evidence of the assault, including stained clothes and records of the minister's call to her. There were many attempts to get her to take back her allegations, even by the minister's wife.