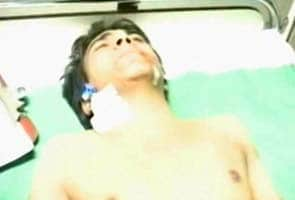 New Delhi/Mumbai:
Ajmal Kasab
was hanged at 7.30 am today, five days before the fourth anniversary of the 26/11 Mumbai attacks. Kasab was the lone terrorist captured. The other nine Pakistani men who had sneaked into Mumbai with him to lay siege to the city were killed, but not before they had murdered 166 people across the city in nearly three days.
The announcement came an hour after the hanging; Maharashtra Home Minister RR Patil confirmed that the Lashkar-e-Taiba terrorist, charged with waging war against India, had been executed. The decision to execute him was finalised on November 5, when President Pranab Mukherjee rejected his mercy petition. The date and time of his execution were kept under wraps; sources say people were told only on a need-to-know basis.
On August 29 this year, the Supreme Court had rejected Ajmal Kasab's plea seeking that the death sentence handed to him by the Bombay High Court be commuted to life imprisonment. The court observed that it was "left with no option but to uphold the sentence." 20 days later Kasab appealed for mercy. On October 23, the Union Home Ministry recommended that President Pranab Mukherjee reject the mercy petition. The sequence of events thereafter was swift and secret.
"We kept the whole procedure in secrecy because if anything like this happens, it is important to do so. I had declared earlier that as soon as I will get the paper, I will take action on it," Home Minister Sushil Kumar Shinde said today.
Here is how it happened:

November 5, 2012:
President Pranab Mukherjee rejects Ajmal Kasab's mercy petition.
November 7, 2012:
Union Minister Sushil Kumar Shinde finds file on his table, signs it "immediately"
November 8, 2012:
Papers reach the Maharashtra government.

November 10, 2012:
The Ministry of Home affairs and the Maharashtra government consult on possible dates. Of the two dates - 20th and 21st November - under consideration, the government decides to go with 21st.
Government also decides not to put off Pakistan Minister Rehman Malik's proposed date of visit to India to operationalise the new India-Pakistan Visa regime. Visit off till next January. Upcoming Parliament session cited as official reason

November 12, 2012:
Ajmal Kasab is informed about the decision to hang him. Sources said Kasab expressed the wish that his mother be informed in Pakistan.
The Ministry of Home Affairs informs the Ministry of External affairs asking them to inform Pakistan. However a decision is taken to inform Pakistan 48 hours ahead of the execution fearing a leakage.

November 19, 2012:
Kasab is moved out of Mumbai's high-security Arthur Road Jail to Pune's Yerwada Jail. Yerwada jail is one of two in Maharashtra equipped to handle execution by hanging.

November 20, 2012:
According to Home Minister Sushil Kumar Shinde and External Affairs Minister Salman Khurshid, Indian High Commission in Islamabad informed Pakistan's Foreign Office about Kasab's hanging on November 20 but it rejected accepting formal communication. Pakistan later claimed it had acknowledged the communication. New Delhi says that same communication was sent by courier and faxed to Pakistan Foreign Office as well.

November 21, 2012
- Kasab is hanged at 7.30 am on Wednesday morning at the Yerwada Jail in Pune. A heavy security cordon is put in place around the prison. A few hours later, the 25-year-old Kasab is buried inside Yerwada jail.