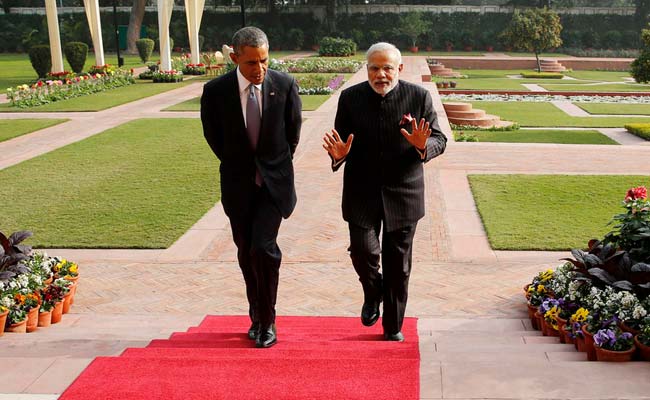 New Delhi:
Within hours of US President Barack Obama's arrival in Delhi, a landmark breakthrough on nuclear trade was clinched with Prime Minister Narendra Modi.
The agreement - which comes after years of wrangling - was finalised by the two leaders who were seen strolling briefly before sitting down to a cup of tea on the lawns of Delhi's Hyderabad House, where bilateral talks included a working lunch.
"I am pleased that six years after we signed our bilateral agreement, we are moving towards commercial cooperation, consistent with our laws (and) international legal obligations," the PM said at a joint press conference with President Obama.
The two countries in 2008 signed a landmark deal giving India access to civilian nuclear technology, but it has been held up by US concerns over India's strict laws on liability in the event of a nuclear accident.
The agreement resolved differences over the liability of suppliers to India in the event of a nuclear accident and U.S. demands on tracking the whereabouts of material supplied to the country.
"Today we achieved a breakthrough understanding on two issues that were holding up our ability to advance our civil nuclear cooperation and we are committed to moving towards full implementation," said President Obama.
India has offered to set up an insurance pool to indemnify companies that build reactors in the country against liability in case of a nuclear accident.
Sources say America has forfeited its demand on insistence on "flagging" or tracking the nuclear material they supply to India, required under its rules to ensure it is not being used for military purposes. India said the demand was intrusive, especially because safeguards of the International Atomic Energy Agency, or IAEA, are in place.
Nuclear commerce worth billions of dollars was meant to be the centrepiece of a new strategic relationship between the United States and India, allowing New Delhi access to nuclear technology and fuel without giving up its weapons.
But a tough liability law which was cleared by the Indian parliament in 2010 and holds equipment suppliers liable for damages for an accident had meant that billions of dollars in trade were held up by concerns over exposure to risk. The US said this is a sharp deviation from international norms that put the onus on the operator to maintain safety. For India, the law grew out of the 1984 Bhopal gas disaster, the world's deadliest industrial accident, at a factory owned by U.S. multinational Union Carbide Corp, which families are still pursuing for compensation.
The law had so far effectively shut out Western companies from a huge market, as energy-starved India seeks to ramp up nuclear power generation by 13 times, and also strained U.S-Indian relations.