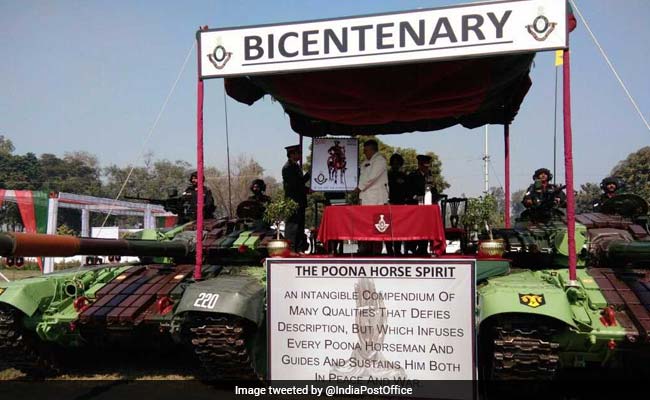 New Delhi:
The Poona Horse, a tank regiment of the Army, which took part in the 1948 Hyderabad operation and 1965 and 1971 Indo-Pak wars, has turned 200, an Army official said today.
Within six months of its raising on July 15, 1817 at Sirur, near Poona, the regiment proved its mettle at the Battle of Coregaum and was awarded the first battle honour.
"As part of British Indian Army for 130 years, the regiment fought in 13 countries. Displaying raw and fearless courage and raising its flag at each juncture, the regiment has been conferred with 34 battle honours," Lt. Gen. Ajai Singh (retd), who has served the regiment, told PTI.
In its eventful journey of two centuries of Army's 17 Horse, famously known as 'The Poona Horse', tales of its valour of both the Raj-era and post-Independence, have left an indelible mark.
Having earned the highest military honour of four Victoria Crosses in the British era, the regiment later brought home decisive victories in the 'Battle of Phillora' in 1965 and 'Battle of Basantar' in 1971 Indo-Pak war, by sheer gallantry of legendary Lt Col A B Tarapore and 2nd Lt Arun Khetrapal, who were posthumously awarded the prestigious Param Vir Chakra.
In addition, the regiment, which was deployed during the 1948 Hyderabad action that brought the Nizam-ruled Hyderabad state into the Indian Union, has also been awarded four Maha Vir Chakras, five Vir Chakras and eight Sena Medals.
On February 8, 1857, the regiment wrote history at the famous 'Battle of Kooshab' against the Shah of Persia and captured the Standard of the 1st Khusgai Regiment of the Fars, acclaimed with courageous and fearless soldiers and Shah's personal bodyguards, an official of the Armoured Corps regiment said.
"The Standard of Persian Army now surmounts the Regiment's Standard, and it is etched in Persian with the words' 'Yaad Ullal Fauk Idaheem' (the hand of God is above all things)," he said.
Lt. Gen. Singh, a former governor of Assam and a 1971 war veteran, said, "We pledge to live to the Poona Horse spirit which is an intangible compendium of many qualities that defy description, but which infuse it in every Poona horseman and guides and sustains him both in peace and war."