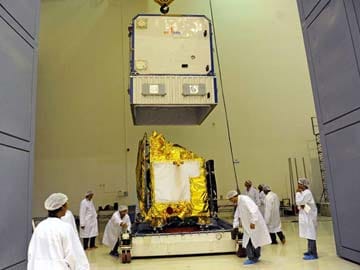 Bangalore:
India's mars satellite 'Mangalyaan' had been fast tracked, in the making for over a year, riding on this small satellite is India's big ambitions of going where no Indian vehicle has gone ever to the Red Planet.
This small Tata-Nano-sized satellite carries within it the ambitions of more than a billion people.
Over 500 scientists from the Indian Space Research Organisation or ISRO worked day and night to build this satellite in a record 15 months, the shortest that organisation has ever taken to fabricate a satellite.
The first announcement that India will rendezvous with Mars came as a surprise when, in his Independence Speech in 2012, Prime Minister Manmohan Singh gave the clarion call.
"Under this Mission, our spaceship will go near Mars and collect important scientific information. This Mangalyaan will be a huge step for us in the area of science and technology," the PM said. This announcement from the ramparts of the Red Fort that India will be visiting the Red Planet soon galvanized the space community into action like never before
SK Shivakumar, the Director of ISRO's Satellite Center in Bangalore, says, "One year only is fast for building this satellite, but we cannot say we did everything in one year."
Mars they say is for men, but ISRO's many women have contributed to the making of this satellite.
The hands-on team leader for this team is mechanical engineer S. Arunan who told NDTV that in the last 15 months he has slept almost every day in the satellite center going home only to perform his religious duties.
Most global missions to Mars like NASA's Curiosity have taken over a decade to build, but it was the unique launch window of 2013 which really made ISRO take on this challenge and finalize the mission in a record time of 15 months.