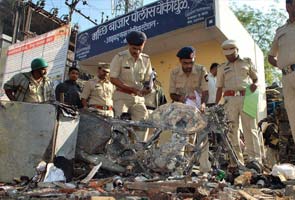 Dhule (Maharashtra):
The death toll from the riots in the communally-sensitive town of Dhule in Maharashtra has climbed to five. A person in hospital, being treated for injuries from Sunday's police firing, died this morning.
More than 400 people, a hundred of them policemen, were injured in the riots that ripped through the town, 350 kilometers from Mumbai, on Sunday evening. The trigger for the riots was a fight over a restaurant bill. The customer refused to pay and then brought a mob of 50 people with him to assault the eatery's owner.
Full-scale violence soon followed. Policemen who rushed to the spot came under heavy attack, with rioters hurling stones, bricks, acid and soda water bottles at them. Homes, vehicles and shops were vandalized. The police first used batons and tear gas on the mob, and then opened fire.
In October 2008, ten people had died in communal riots in Dhule, which has a population of five lakhs.
Maharashtra Chief Minister Prithviraj Chavan has ordered an inquiry into the violence; the report will be submitted within two months, he said.