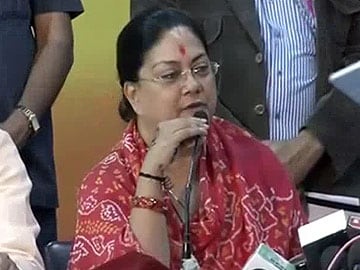 Jaipur:
The
Arvind Kejriwal
effect is being felt in Rajasthan.
Chief Minister
Vasundhara Raje
, who won the state election last month, has decided not to live in the official residence that she is entitled to. She has also halved the security that surrounded her predecessor, Ashok Gehlot of the Congress.
Mr Kejriwal, who is now the Chief Minister of Delhi, has won rave reviews for vowing to demolish "the VIP culture" tagged to politicians. He has, for example, instructed his ministers not to use the
lal batti
or red beacon that entitles politicians' cars to the right of way.
"Raje has decided to stay in her comparatively much smaller government residence at 13, Civil Lines," said a senior state government official, who preferred not to be named, according to news agency IANS.
The chief minister has chosen to remain in the house that she was allotted as leader of the opposition - a bungalow which she had renovated.
The Chief Minister's office rubbished any suggestion that the decisions were inspired by Mr Kejriwal and the "aam aadmi phenomenon" and insisted that she took these calls on December 9, after coming to power in Rajasthan.
During her earlier tenure as chief minister between 2003 and 2008, she had been accused by critics of wasting public money on her luxurious lifestyle.
Ms Raje, who comes from the royal family of Gwalior, has also instructed the police not to make special arrangements for the passage of her cavalcade.
"She has said that she would stop at red lights, so that common commuters don't get hassled by the traffic restrictions which were earlier the norm of the day whenever the chief minister's cavalcade passed through," said a traffic department officer.
Ms Raje has also decided to take commercial flights instead of using state planes to reduce her travel expenses.
Get Breaking news, live coverage, and Latest News from India and around the world on NDTV.com. Catch all the Live TV action on NDTV 24x7 and NDTV India. Like us on Facebook or follow us on Twitter and Instagram for latest news and live news updates.