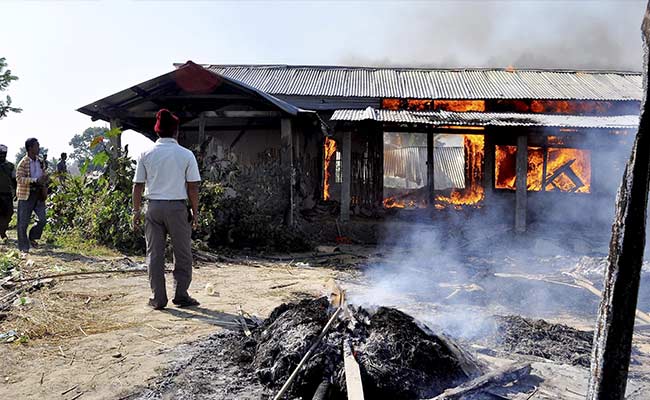 Guwahati:
Parts of Assam, which had been hit by ethnic violence that began on December 23, may be limping back to normalcy. Despite more relief camps being set up and the army taking part in security operations, there seems to be little to assure the victims who are uncertain of their future in the Bodoland Territorial Area Districts (BTAD) region.
Seven-year-old Kala Tudo was busy playing the balcony, just a day ahead of Christmas. Suddenly at night, bullets began to rain all around him. Many brushed passed the child, but he couldn't escape all of them. Two bullets hit Kala. Within minutes, his mother and his cousin sister were killed.
His father managed to escape with Kala, who was rushed to Guwahati Medical College and Hospital that evening. Kala Todu (IS HIS NAME TUDO OR TODU?) survived, but is too traumatized to speak.
His father tried hard to describe the horror story, the shock and disbelif stil clear in his eyes. "Many bullets brushed past my son, and he somehow managed to run. But was hit by bullets in (IS THIS QUOTE INCOMPLETE?)
Todu (TODU/TUDO?) was among the 17 victims who were rushed to Guwahati Medical College for treatment. They all had bullet injuries, with some taking multiple hits. A number of them were infants and children. Most of the people who had been shot had died on spot.
Following the incident, the adivasi groups had staged protests in various places with the bodies of the victims. But they came under retaliatory attacks from the police, that killed three. These victims are now not only scared of the NDFB but also the police.
"Where would these people go after being discharged. They don't have security or medicines or houses since their houses are all burnt in the violence. We are scared of the NDFB, and the police because in the heat of the police (??? DOES THIS QUOTE REQUIRE A CLEAN UP?) the police has even mindlessly shot at our people," Bicky Topno, AGS (ASSISTANT GENERAL SECRETARY?), All Assam Adivasi Students Union.
Over 75,000 people are taking refuge in various relief camps spread across the BTAD areas and Central Assam's Sonitpur district. Many have fled to parts of West Bengal in Alipurduar. Their houses all burnt.
The powerful All Bodo Student's Union, led by Promod Bodo, also has a demand similar to that of NDFB, of carving Bodoland as a separate state out of Assam. But Promod Bodo and his group are against armed struggle and the killing of innocents.
"The extremist group might have its own agenda behind the attacks or there was some political conspiracy. Or, they may be trying to create a rift between communities as the elections to the Bodoland Territorial Council (BTC) are about to happen," Bodo said.
National and international intervention is needed because the situation has been volatile for four decades, president (SENTENCE SEEMS INCOMPLETE).