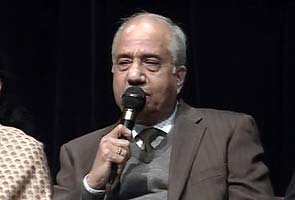 New Delhi:
The five-member committee on Telangana statehood issue has said it will give "several options with their pros and cons" in its report that will seek to achieve the "highest satisfaction of the largest number".
Addressing a press conference in New Delhi, the committee chairman and former Supreme Court Judge Justice B N Srikrishna hoped that the report, to be submitted to Home Minister P Chidambaram by Friday (December 31), will offer a solution to the divisive demands for the bifurcation of Andhra Pradesh.
"We assume it is a permanent solution. But it is for the Government to think over it and find a solution and it is for the people to accept it," he said.
Refusing to go into the contents of the report, he expressed the hope that all political parties in the state will accept the report and maintain peace and harmony after the report is submitted.
"I hope peace prevails in the state after the report is submitted. It is the responsibility of the politicians and the media," said Justice Srikrishna.
"Several options with their pros and cons," the panel's Member-Secretary Vinod K Duggal said when asked how many options the committee will present to the government.
"Hopefully, the largest number of people will have the highest sense of satisfaction with the report. I hope we will achieve that," Duggal said.
The committee was constituted by the Centre on February 3 to gauge what different political parties and stakeholders want.
Duggal said the committee, in the past ten months, had visited all 23 districts of Andhra Pradesh and interacted with people from all sections of society.