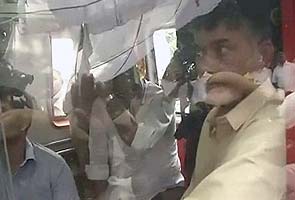 New Delhi:
Politician Chandrababu Naidu, on a hunger strike for five days in Delhi against the Centre's decision to bifurcate Andhra Pradesh, was today forcibly moved by the Delhi Police to a hospital amid high drama.
As the police, saying Mr Naidu's condition has deteriorated, tried to evict him from Andhra Bhavan, hundreds of workers of Mr Naidu's Telugu Desam Party (TDP) tried their best to prevent it.
The protesters blocked the way for the 50-odd policemen trying to reach the podium where Mr Naidu was sitting and waved flags and shouted slogans. Later, some of them, including women protesters, stood in front of the ambulance in which Mr Naidu was being taken to the Ram Manohar Lohia Hospital to prevent it from moving. Soon a large swarm of TDP workers joined them and the ambulance escorted by five police vehicles could move only after the cops pushed them away.
The police, once out of the Andhra Bhavan premises, had to change the route of the convoy at the last minute to dodge Mr Naidu's supporters. (
Latest updates
)
The Andhra Bhavan is the headquarters of the Andhra Pradesh state government in Delhi. The state government had complained that the hunger strike is unlawful and cannot be held there; it had asked the Delhi Police to evict Mr Naidu and his supporters.
The Congress is in power in Andhra Pradesh; chief minister Kiran Kumar Reddy is against those who have censured the centre for deciding to carve out Telangana as its own state.
Mr Naidu has been flayed by political rivals for holding his fast in Delhi, rather than at home, and waffling on the issue of whether he supports the plan for statehood for Telangana, a movement that has sprawled across decades.
As he launched his fast this week, Mr Naidu, who has served as chief minister two times in succession, refused to comment on whether he backs the plan to create a Telangana state, stating only that he is opposed to "favouring one child over the other." His supporters say that he wants to ensure that resources like power, water and revenue are distributed fairly between the old and new states.