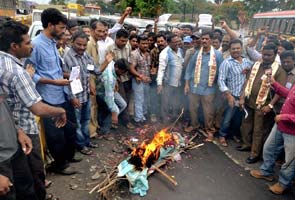 Hyderabad:
Andhra Pradesh Chief Minister Kiran Kumar Reddy told angry Congressman from the coastal Andhra and Rayalaseema regions of his state at a meeting today that while the decision may be unpalatable to them, they will have to abide by the leadership's decision.
Soon after, at least six of his ministers handed over resignation letters to him. Six of the party's legislators from coastal Andhra and Rayalaseema regions have also resigned, confirmed Mummidivaram MLA Satish Kumar.
Speaking to NDTV from the United States, Congress MP from Guntur Rayapati Sambasiva Rao said he was quitting both the party and his seat in the Lok Sabha. The state's minister for law, Errasu Pratap Reddy, said after his meeting with the CM, "We want a united Andhra Pradesh."
The leaders were huddled in meetings all through the day and reportedly plan to meet the Chief Minister again tomorrow before announcing their resignations. It is not clear yet whether more of their partymen will join them. The MLAs opposed to bifurcation will also meet tomorrow in the morning.
At today's meeting, the Chief Minister, who belongs to Rayalaseema and is opposed to splitting the state, reportedly said, "It is a painful decision for me also. But we now need to look at road ahead and how to move ahead on the new states."
There have been angry protests on the streets in towns like Anantpur, Vijaywada and Tirupati amid a bandh call today in the entire coastal Andhra and Rayalaseema regions - collectively known as Seemandhra.
Gautam Reddy of the YSR Congress, which is led by Jagan Reddy who is in jail, called for a concerted effort across political parties to scuttle the Telangana decision endorsed yesterday by the Congress' highest decision making body, its working committee. He suggested that all Congress office-holders from the region should resign to bring pressure on their party leadership.
Over the next few months, the Centre will ensure that the concerns of the residents of Telangana and Seemandhra are addressed and resolved within "a specified time frame". The focus will be on how to distribute resources like water, electricity and revenue between the old and new states.
Of Andhra Pradesh's 42 parliamentary seats, almost half lie in Telangana; by acquiescing to popular sentiment, the Congress is hoping for a windfall in the national elections, now just months away.