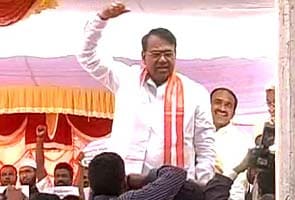 Hyderabad:
In Telangana, a by-election held today brought great news for those who've been campaigning for a new state. The winner is from the Telangana Rashtra Samithi (TRS) which has fronted the movement for the bifurcation of Andhra Pradesh.
The TRS is headed by K Chandrasekhara Rao, a.k.a KCR; his insistence on statehood for Telangana has echoed among leaders of different political parties who belong to this region. Many MPs and MLAs have been forced to give in their resignation letter to show their loyalty to the Telangana cause.
Pocharam Srinivas Reddy won today's election in Banswada. He represented the constituency on behalf of N Chandrababu Naidu's party, the TDP. But he switched sides because he felt the TDP had not taken a strong enough stand on supporting a Telangana state. The TDP didn't field a candidate against him. The Congress, which is in power in the state, put up a candidate who lost by nearly 50,000 votes.
"The people of Banswada have proved beyond any doubt that if the Congress does not concede Telangana, if the Congress does not deliver Telangana, the people of Telangana will not spare the Congress,'' said KCR's son, KT Rama Rao.
The demand for Telangana has helped give KCR's party a new relevance in the region. In the 2009 elections, the TRS won just 10 of the 117 assembly seats in Telangana and only two Lok Sabha seats. Since then, it has pivoted several pro-Telangana protests, including a recent strike that lasted 35 days, affecting hundreds of trains, businesses, and forcing schools and colleges to shut down frequently.
Today, a bandh called by the TRS and other members of the Joint Action Committee for Telangana saw a tepid response. The TRS says the election's result will help lift the morale and prove that popular sentiment supports the movement, despite the widespread inconvenience to residents of Hyderabad and surrounding areas.