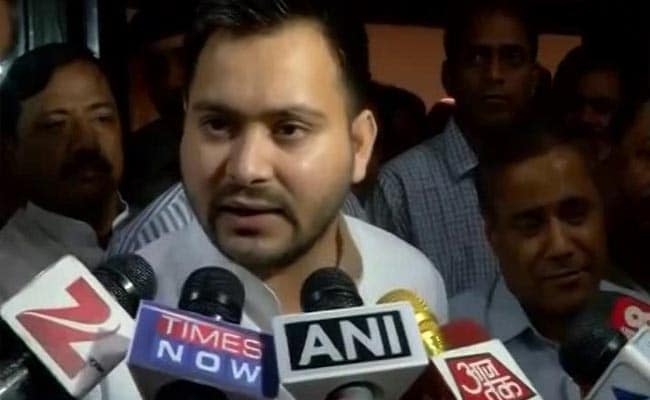 Patna:
Bihar Deputy Chief Minister Tejaswi Yadav on Thursday sought to clarify his remark that Pathankot attack is also "jungle raj", saying he did not compare the terrorist attack to the killing of Aditya Sachdeva in Gaya.
Tejaswi drew support from his father and RJD president Lalu Prasad who hit out at BJP for "misinterpreting" the comment.
Tejaswi told reporters in Patna that he knew the difference between the both the incidents.
"I also talked about a large number of cases of road rage in Delhi, killing in Madhya Pradesh in the wake of Vyapam and murder in Jharkhand to highlight why the comment 'jungle raj' is made in the context of Bihar whenever some criminal activity takes place here," Tejaswi said in a bid to clarify his reaction in Delhi over the Gaya killing and opposition going hammer and tongs against the coalition government.
"We strongly condemn the killing of Aditya Sachdeva in which our government is taking stern action," he said.
"The Deputy CM did not speak anything wrong...He put his views strongly (over the Gaya incident)," Lalu Prasad told reporters in Patna.
BJP was spreading canards against Tejaswi by "misinterpreting" his comments that he compared Pathankot with the Gaya incident, the RJD chief said.
Lalu described the Gaya event as "dardanak" (very painful) and patted the grand secular alliance for prompt action in the incident.
Launching a counter-offensive against BJP for its "return of jungle raj" remark, Tejaswi on Wednesday said if the killing of a youth in a road rage incident symbolised that, then even in the national capital, where such incidents happen in greater numbers, was no different.
"If one road rage incident takes place in Bihar and it is called 'jungle raj', then the maximum number of road rage incidents take place in Delhi. So, is there 'jungle raj' in Delhi? Pakistani flag is unfurled on the country's soil, isn't it jungle raj?
"Terrorists enter the most secure air base, isn't it jungle raj? If there is a Vyapam scam in Madhya Pradesh, where one after the other murders take place, an IPS officer is killed, nobody says there is jungle raj. In Haryana, there was such a big riot and such unfortunate incidents of rape took place, but it is not called 'jungle raj'," the Bihar deputy chief minister had said.